Hong Kong's iconic Jumbo Floating Restaurant capsizes in South China Sea after encountering adverse conditions.

● Aberdeen Restaurant Enterprises says the vessel capsized as it was passing Paracel Islands in South China Sea during weekend.
● No crew members were injured, company is seeking more information from towing firm on incident.

Hong Kong's iconic Jumbo Floating Restaurant has capsized in the South China Sea, following its departure last Tuesday for a new home in an unannounced place, its owner has confirmed.
In a statement on Monday, the Aberdeen Restaurant Enterprises said: "On Saturday afternoon it was passing Xisha Islands [Paracel Islands] in the South China Sea when the vessel encountered adverse conditions … [water entered the vessel] before it began to tip.
"Despite the efforts of the towing company responsible for the trip to rescue the vessel, unfortunately it capsized on Sunday."

Editor's Note: This article was published in SCMP on 20 June 2022.
__________________


The rise and fall of Hong Kong's Jumbo Floating Restaurant: celebrities from Queen Elizabeth to Tom Cruise flocked to the iconic tourist destination.
● Late billionaire and casino tycoon Stanley Ho opened the Cantonese and seafood restaurant in 1976 – but it lost millions during Covid-19 and its kitchen barge just capsized.

● It was a movie set for James Bond film The Man With The Golden Gun and Stephen Chow comedy The God of Cookery – now fans are calling for it to be saved on Instagram.


One of Hong Kong's most iconic tourist destinations, Jumbo Floating Restaurant, is set to leave the city.
After wowing tourists with its grand imperial palace-like design for almost 50 years, the world's largest floating restaurant is on its way out due to financial difficulties.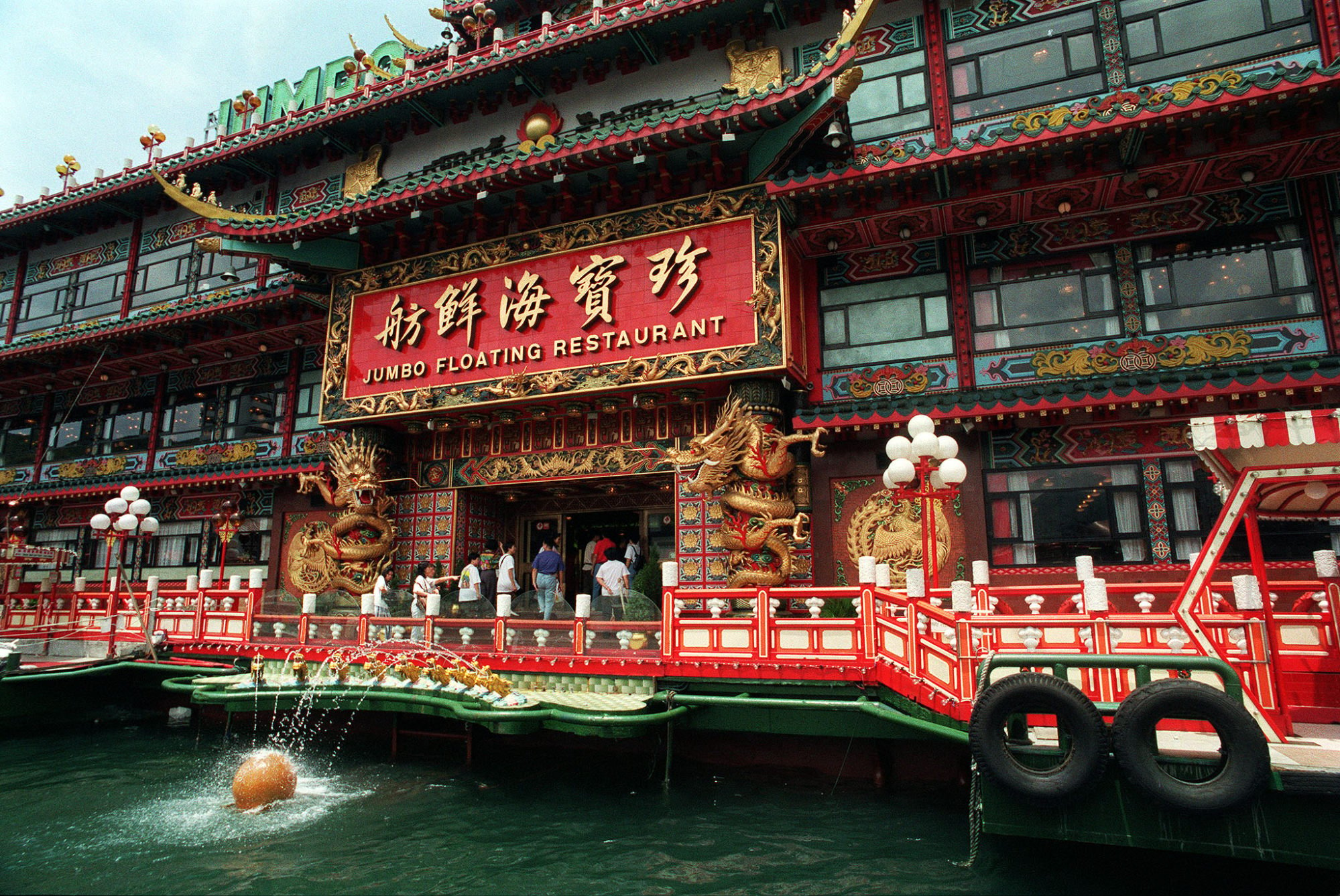 The main entrance to the Jumbo Floating Restaurant in Aberdeen. Photo: SCMP
Although no date has been set, the restaurant's parent company, Aberdeen Restaurant Enterprises, said last month that the tourist attraction would be looking for a new home outside the city in June.
It's sad news for Hong Kong residents and foreigners alike, many of whom have viewed the extravagant restaurant as a must-see spot ever since it was opened by the late Macau casino tycoon Stanley Ho in 1976.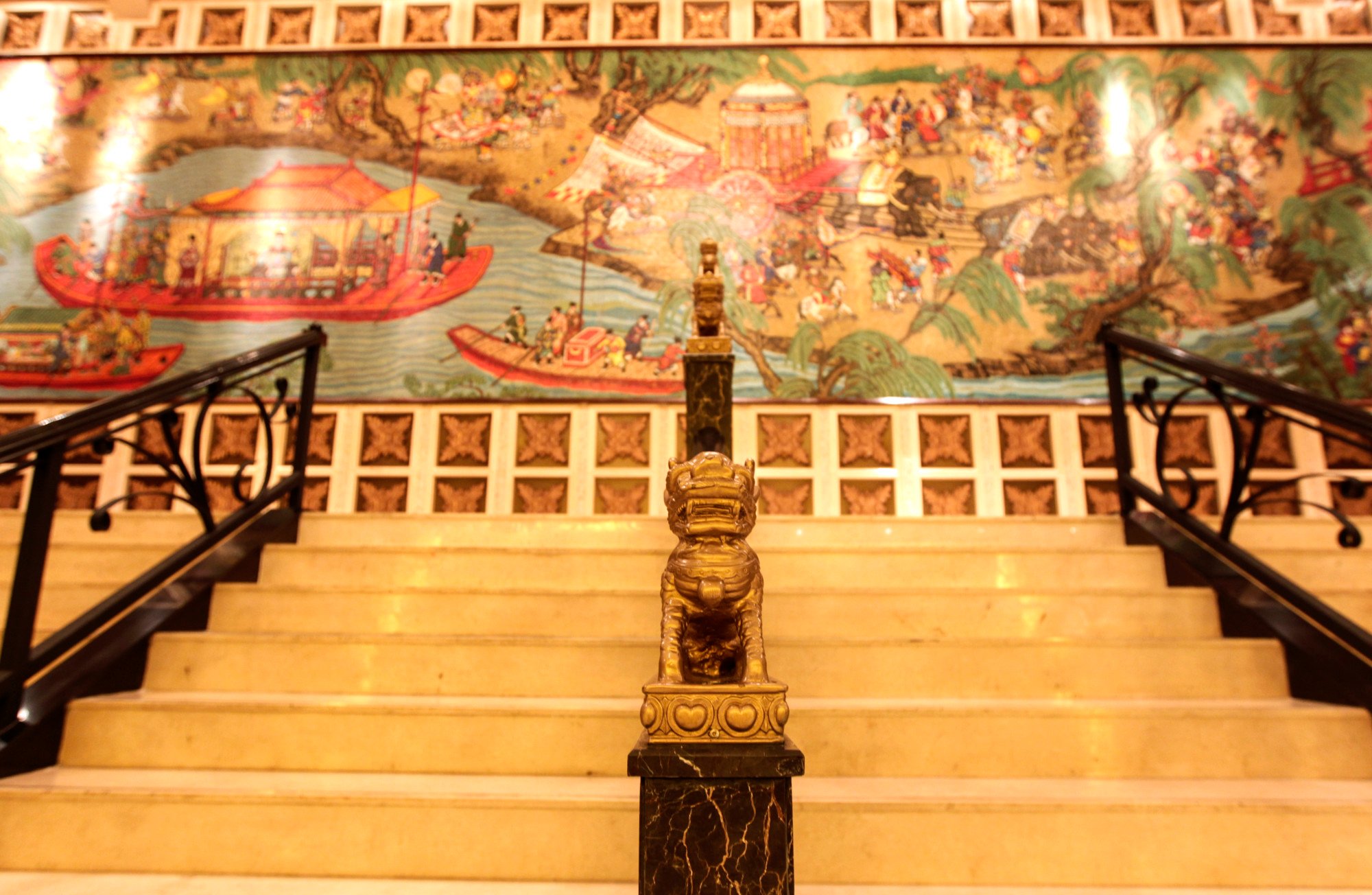 Inside of Jumbo Kingdom in Sham Wan, Hong Kong, in November 2014. Photo: SCMP
More than just the food it served – mostly seafood and refined Cantonese cuisine – the eatery was also a novelty for the many tourists who simply enjoyed the journey by a ferry shuttle to get there in the first place.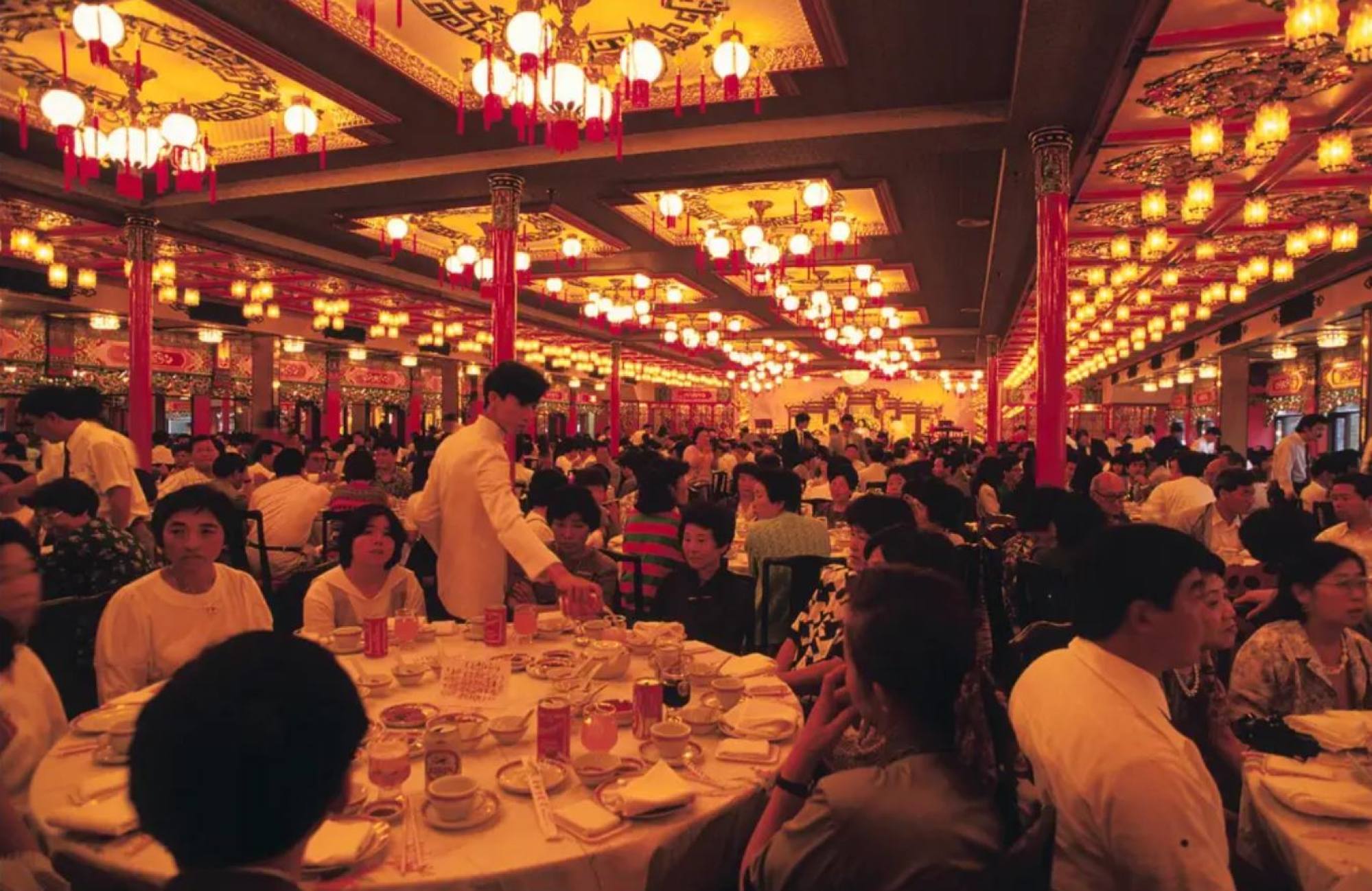 Jumbo Restaurant in Hong Kong could seat up to 2,300 diners. Photo: Getty Images
In its heyday, visitors flocked to the restaurant for glamorous banquet meals. With more than 45,000 sq ft of space over three floors, the 76 metre-long (246 feet) restaurant could seat 2,300 diners. Its banquet halls could host everything from corporate dinners to weddings.
According to the menu on the restaurant's website, guests could order traditional Cantonese dishes such as roasted suckling pig (HK$230 or US$30) and double-boiled bird's nest with coconut milk (HK$388).
For tourists, however, it was the live seafood section that was a big draw. At the aquarium-like place, located on an attached barge, visitors could personally pick out more than 60 types of fresh seafood for their meals, including crabs, lobster and a wide variety of fish.
Built in the style of a Ming dynasty imperial palace, the restaurant's lavish design was also a sight to behold.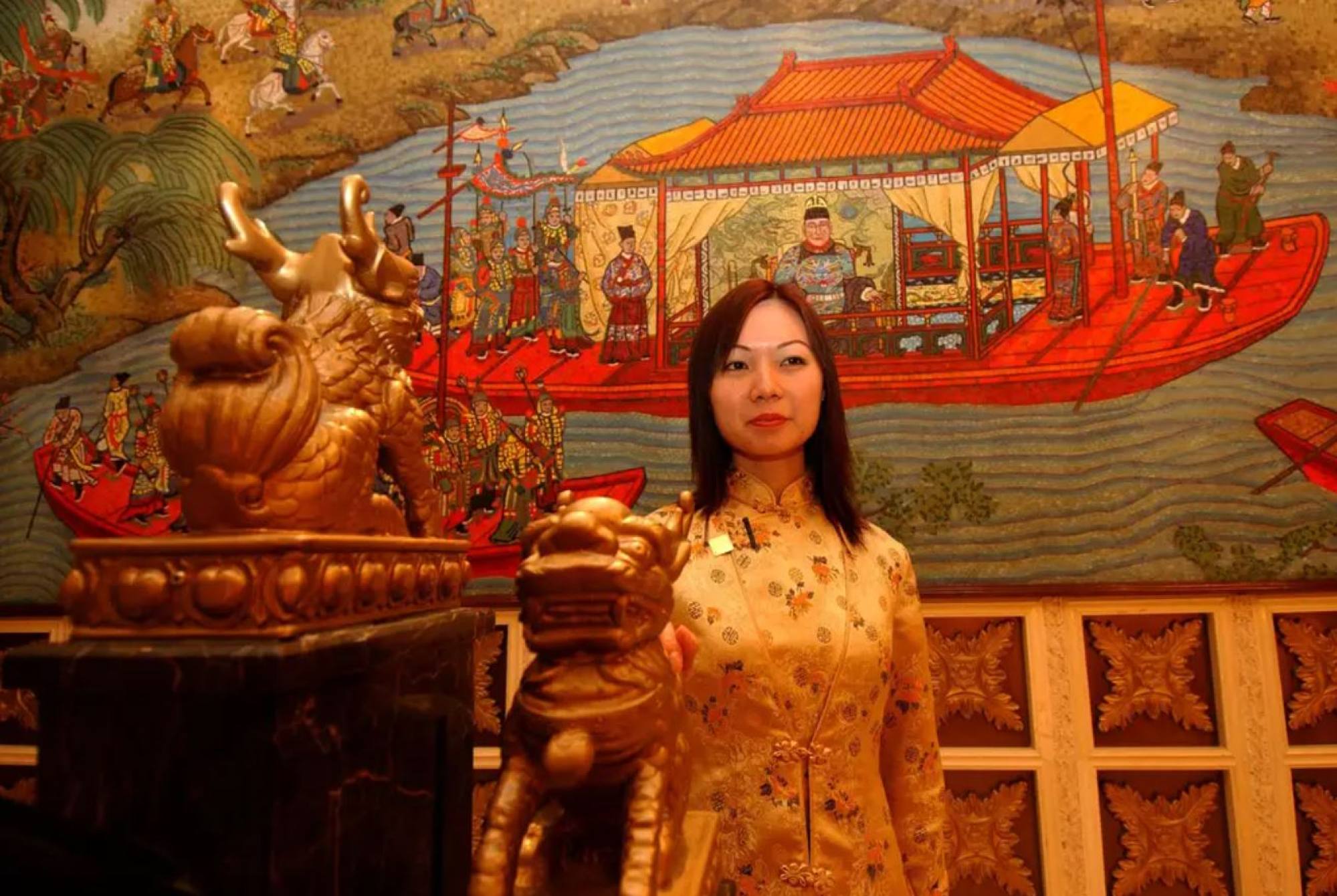 Jumbo Restaurant also featured eye-catching interior design. Photo: Getty Images
Construction work in the seventies cost upwards of HK$30 million (US$3.8 million). In comparison, renovations for a 500-sq-ft flat in a busy part of town would have cost HK$10,000 at the time, per China News.
Besides the traditional Chinese elements such as the dragon and pagoda motifs running throughout, a large HK$6 million mural on the restaurant's second floor proved to be a hit. The mural was inspired by a Ming dynasty Chinese painting and painted by an Italian artist, the outlet said, though it did not specify the name of the artist.
Another big attraction in the restaurant was the dragon throne in the main banquet hall, which included dragon designs that took sculptors two years to carve.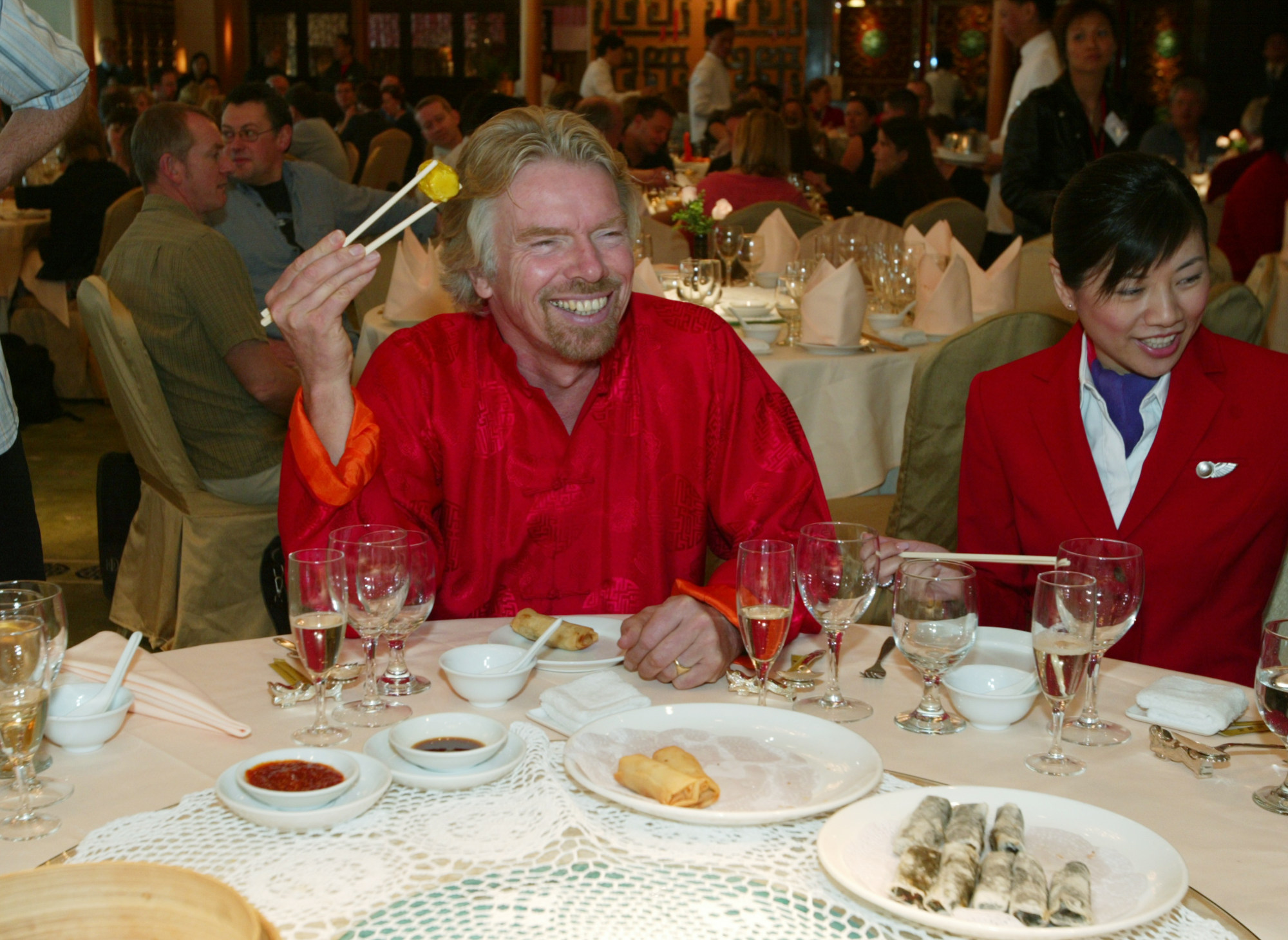 Richard Branson, chairman of Virgin Atlantic Airways, enjoys dim sum at the Jumbo Floating Restaurant, Aberdeen, in 2004. Photo: SCMP
The restaurant was a hit with celebrities from around the world. Jumbo Floating Restaurant has hosted more than 30 million visitors, including international celebrities like Queen Elizabeth and film stars such as Tom Cruise and Chow Yun Fat, according to its website.
The restaurant has also served as a set for films including James Bond flick The Man With The Golden Gun and The World of Suzie Wong. Stephen Chow's classic Cantonese comedy flick The God of Cookery was also shot on board, including a crucial cooking competition scene.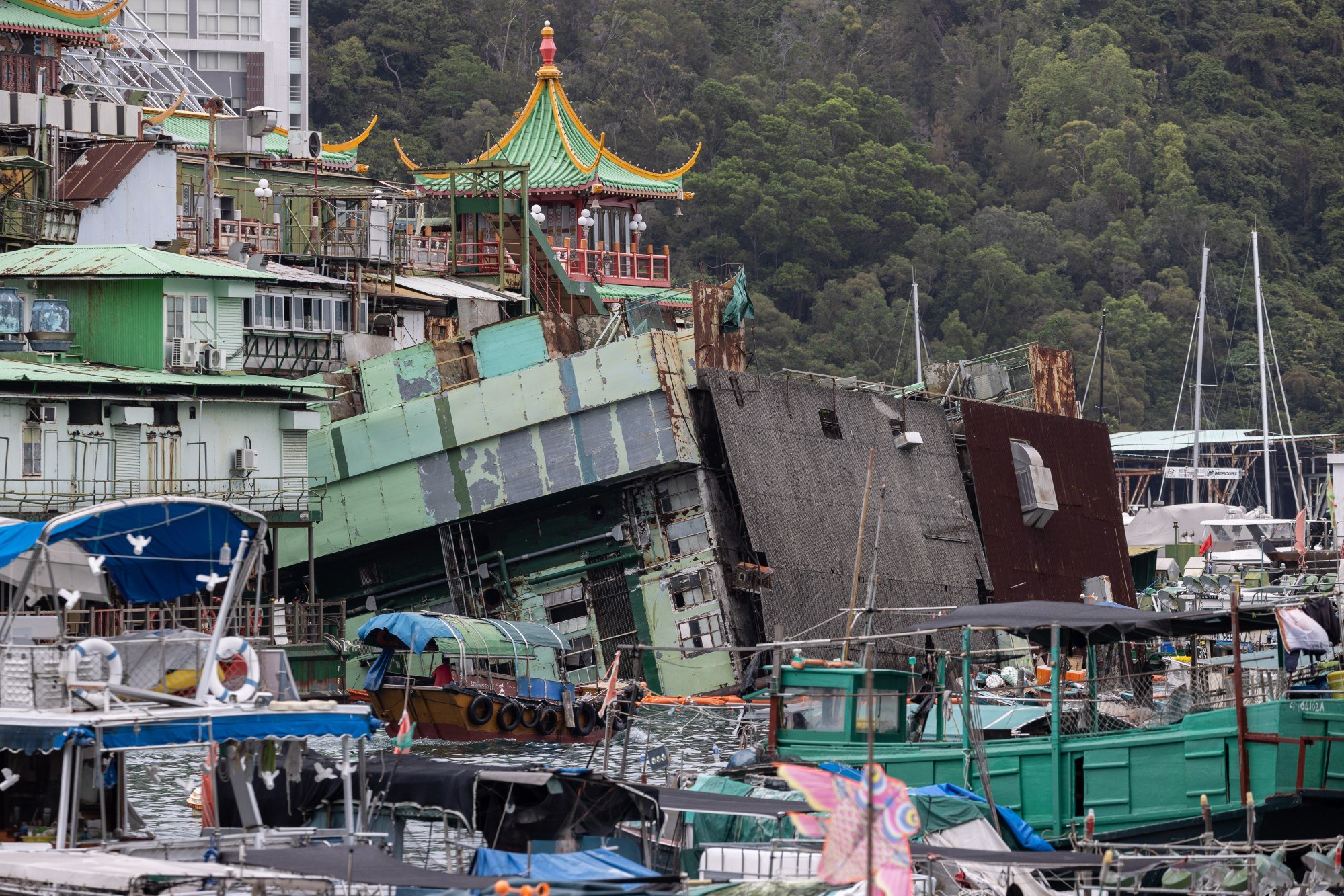 A 30-metre-long kitchen barge connected to the iconic Jumbo Floating Restaurant lies partially submerged after capsizing in Aberdeen, Hong Kong, on June 1. Photo: EPA-EFE
But after halting operations in 2020 amid the pandemic, the restaurant has struggled to reclaim its former glory. The restaurant has reported an accumulated loss in excess of HK$100 million after Covid-19 outbreaks stopped tourists from coming.
But the restaurant's financial troubles preceded the pandemic: the local travel and food and beverage industries were already negatively impacted by the city's social unrest.
And though the restaurant was completely closed for two years, the company said it still had to spend millions of Hong Kong dollars annually to cover inspection and maintenance works.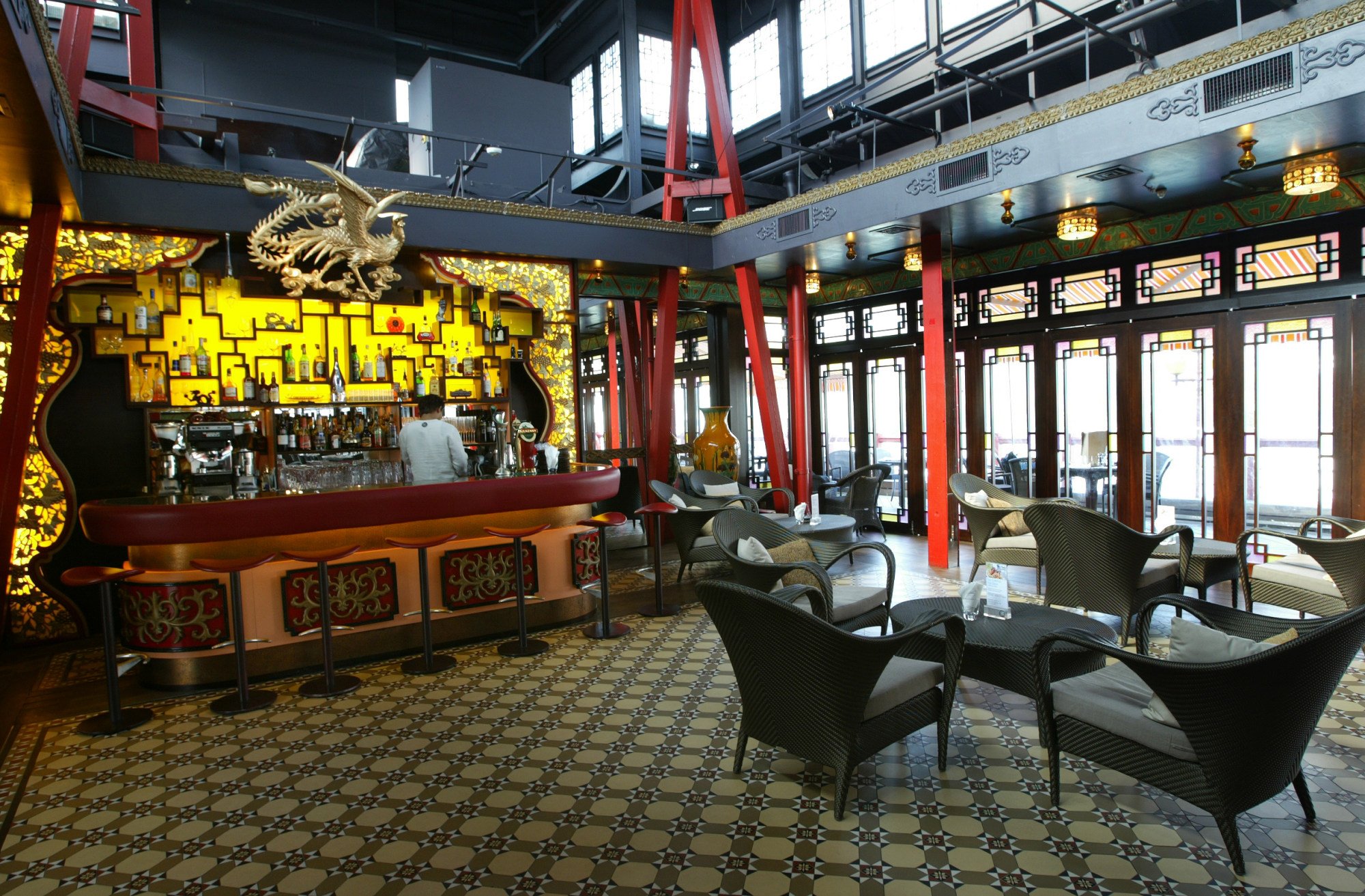 Top Deck at the Jumbo, Jumbo Kingdom, Aberdeen, in 2006. Photo: SCMP
Such costs have become "a heavy financial burden for the company and its shareholders in the current economic environment", the company said. "We do not foresee that [Jumbo] can resume business in the immediate future."
The restaurant's woes were exacerbated last week when its kitchen barge – a separate vessel behind the boat – capsized. Investigations are ongoing to determine the cause behind the 30 metre-long (98.4 feet) vessel tilting by nearly 90 degrees. Fortunately, no one was hurt.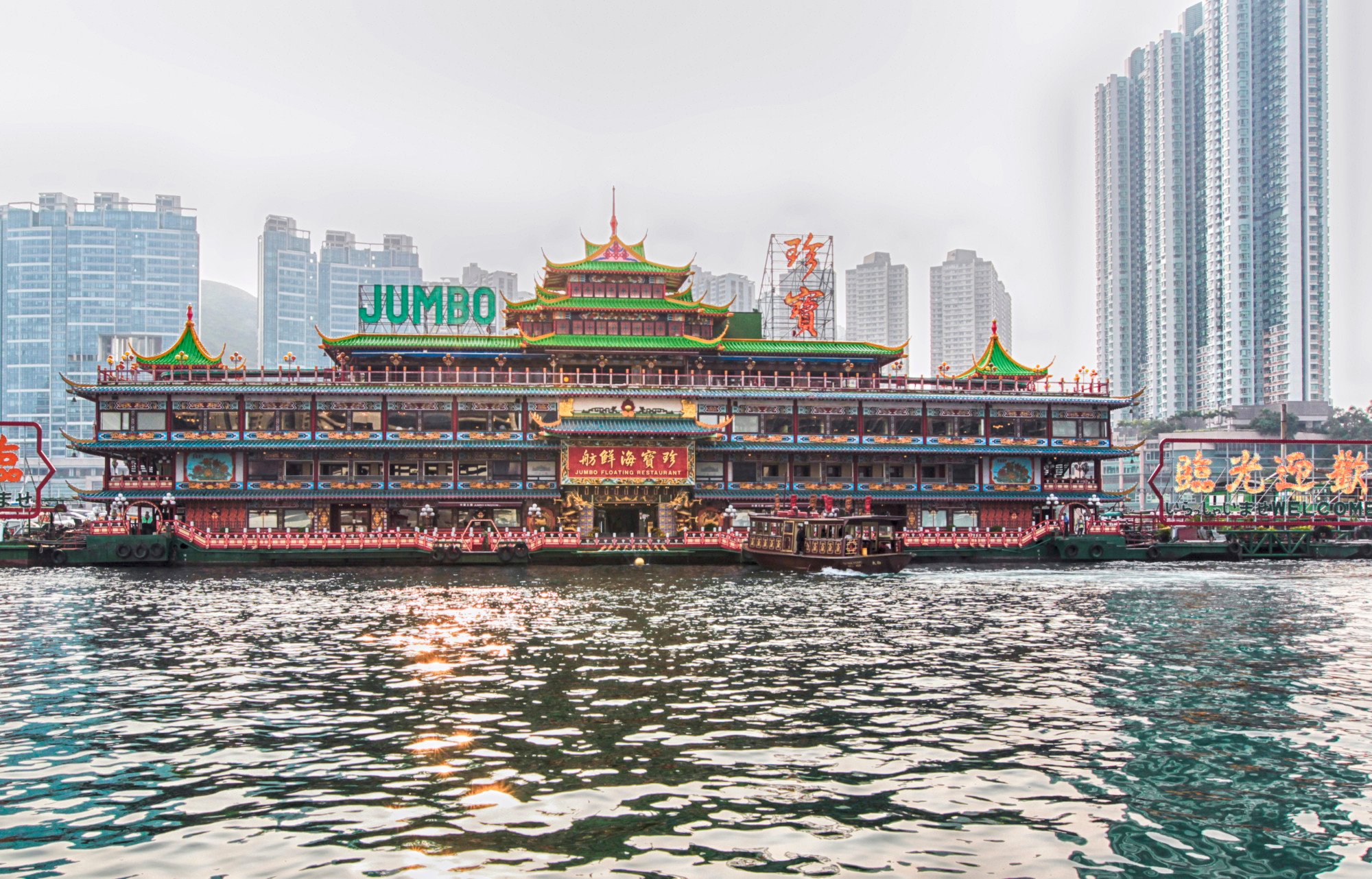 An exterior view of Jumbo Kingdom in Sham Wan, Hong Kong, in November 2014. Photo: SCMP
Amid news of the restaurant's imminent exit, fans are calling for support to save it. Several Hong Kong lawmakers have voiced their hopes for the government to do more to help save the business.
"If the government sees its value, it should step in to take over this boat," Lo Kin-hei of the Democratic Party said.
Hong Kong's lawmaker for tourism, Perry Yiu, said he hoped the government would give the restaurant operator some time to find a "white knight".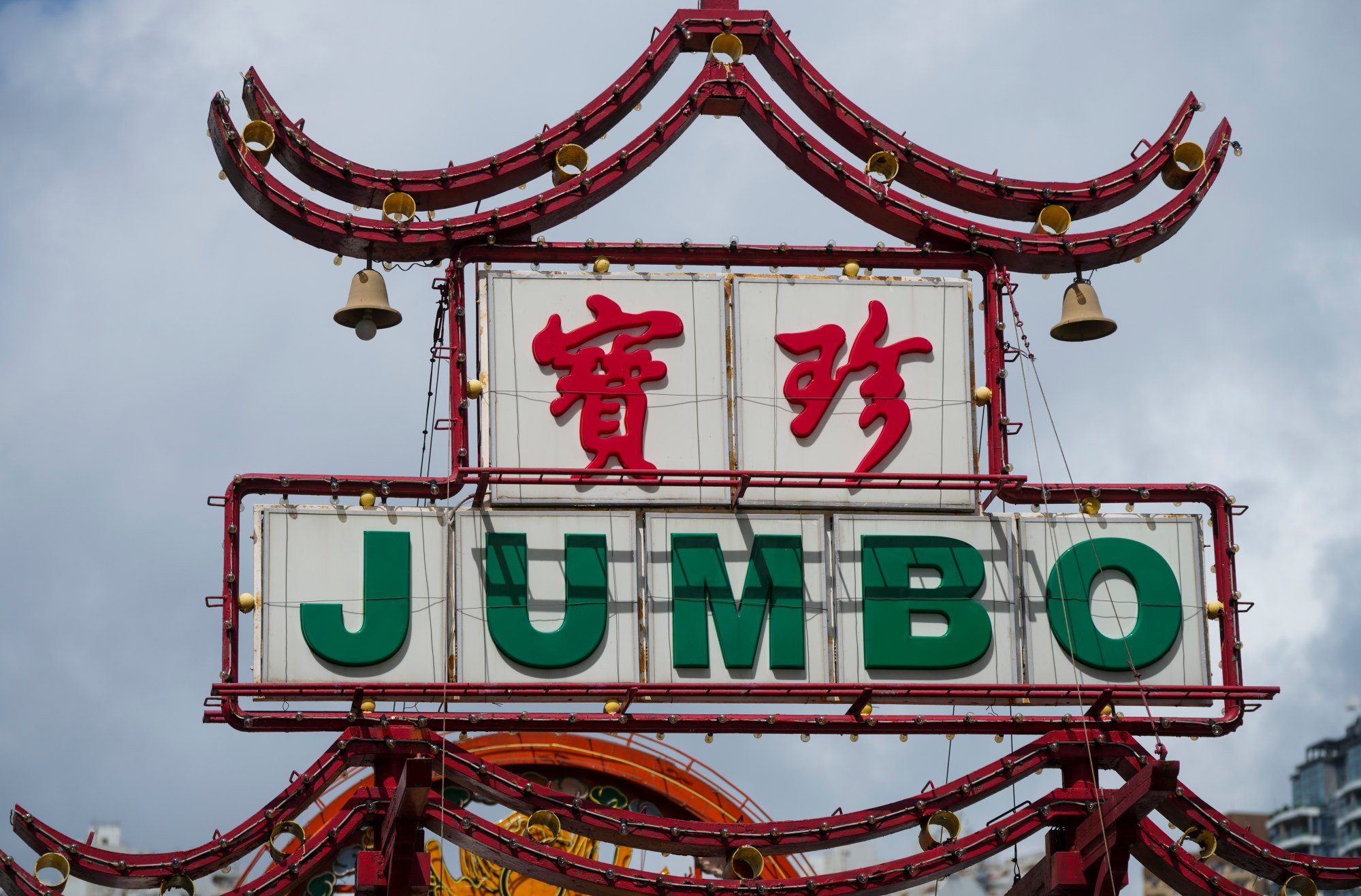 Jumbo Floating Restaurant's sign at Aberdeen on June 1. Photo: Sam Tsang
Meanwhile, fans of the restaurant have paid tribute to it via their art. Surrealist artist Tommy Fung, for example, shared an image on Instagram of the restaurant sinking, with half of its vessel body submerged. The photo has been liked more than 14,000 times at the time of writing. Illustrator Felix Ip reimagined the restaurant as a massive robot in another Instagram post. "Goodbye Jumbo!" he wrote in the caption.

Editor's Note: This article was published in Business Insider on 9 June 2022.

@NFT Heritage: Preserve and digitalize Hong Kong heritages!

#RobrenReview: 9 | 10
Published on: 21 June 2022.
Updated: 22 June 2022.

Another Hong Kong icon lost forever. Help preserve and digitalize Hong Kong heritages.

Link to this article: https://tinyurl.com/JumboSunk
________________


Check out Robren Hong Kong Foodie Guide: Cantonese Food Names Reference: https://tinyurl.com/HKFoodieGuide2