If you've ever Googled how to make money in your sleep, then you've probably heard of affiliate marketing. While it has been around since the internet's early days, recent trends in digital advertising have directed more interest toward it. Today, 81% of brands around the world have affiliate programs.
It's not as simple as it sounds, though. Running an effective affiliate marketing plan takes work—a whole lot of it. Luckily for you, there are numerous techniques to get you on track. In this article, we've made a list of affiliate marketing strategies to help you explore and make the most of this approach.
What is Affiliate Marketing?
In a nutshell, affiliate marketing is an advertising model that allows affiliates to earn commission in exchange for promoting a company's products or services on their own platform. Affiliate marketing is prevalent across a wide range of channels, including blogs and social media. The end goal is to compel audiences to subscribe to or purchase the brand, product, or service that the affiliate is promoting.
---
Why Should You Use Affiliate Marketing?
Traditionally, marketing entails spending on an advertising budget. WebFX reveals that digital marketing costs an average of $1000 to $7500 for small-to-midsized businesses . With affiliate marketing, your business can gain a lot of traction for less cost and risk. This is particularly ideal for small businesses, which don't always have available funds for an elaborate marketing scheme.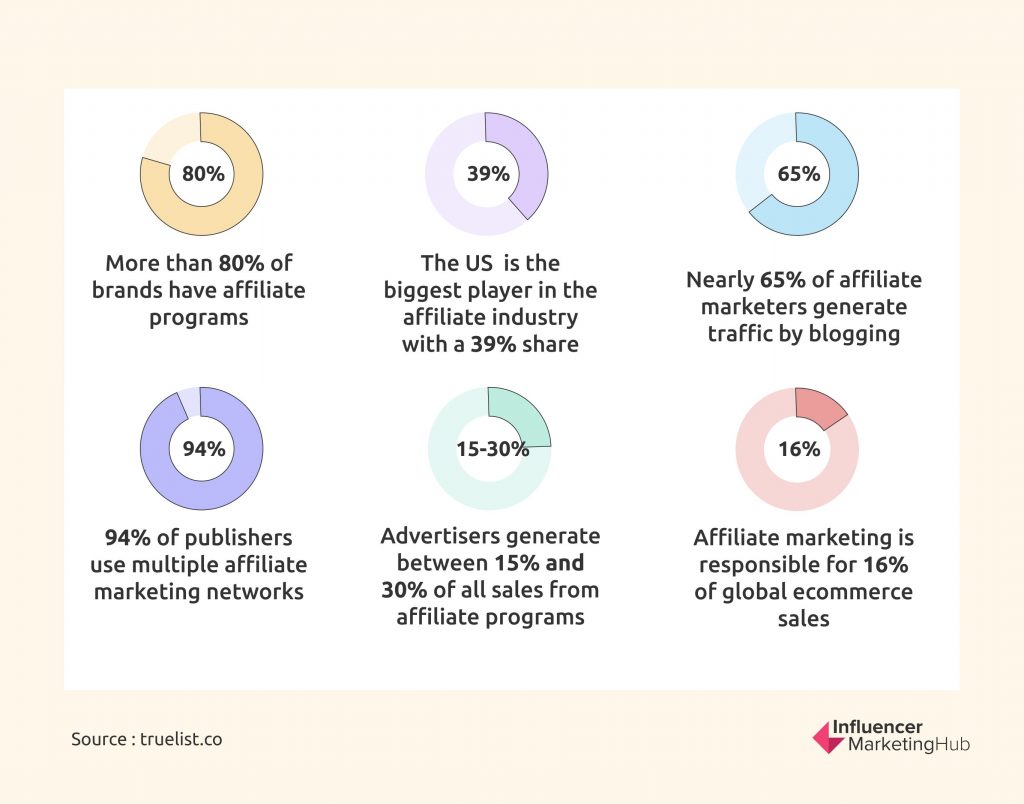 The beauty of affiliate marketing is it allows you to measure your engagement and return on investment quickly. Software can also help you track sales, leads, and clicks. If you find that a certain product isn't doing so well in the market, you could request an affiliate to focus on it.
Overall, affiliate marketing is great for boosting brand visibility, increasing reach, and growing your business. Here are a few strategies that can get you started.
---
Fundamental Affiliate Marketing Strategies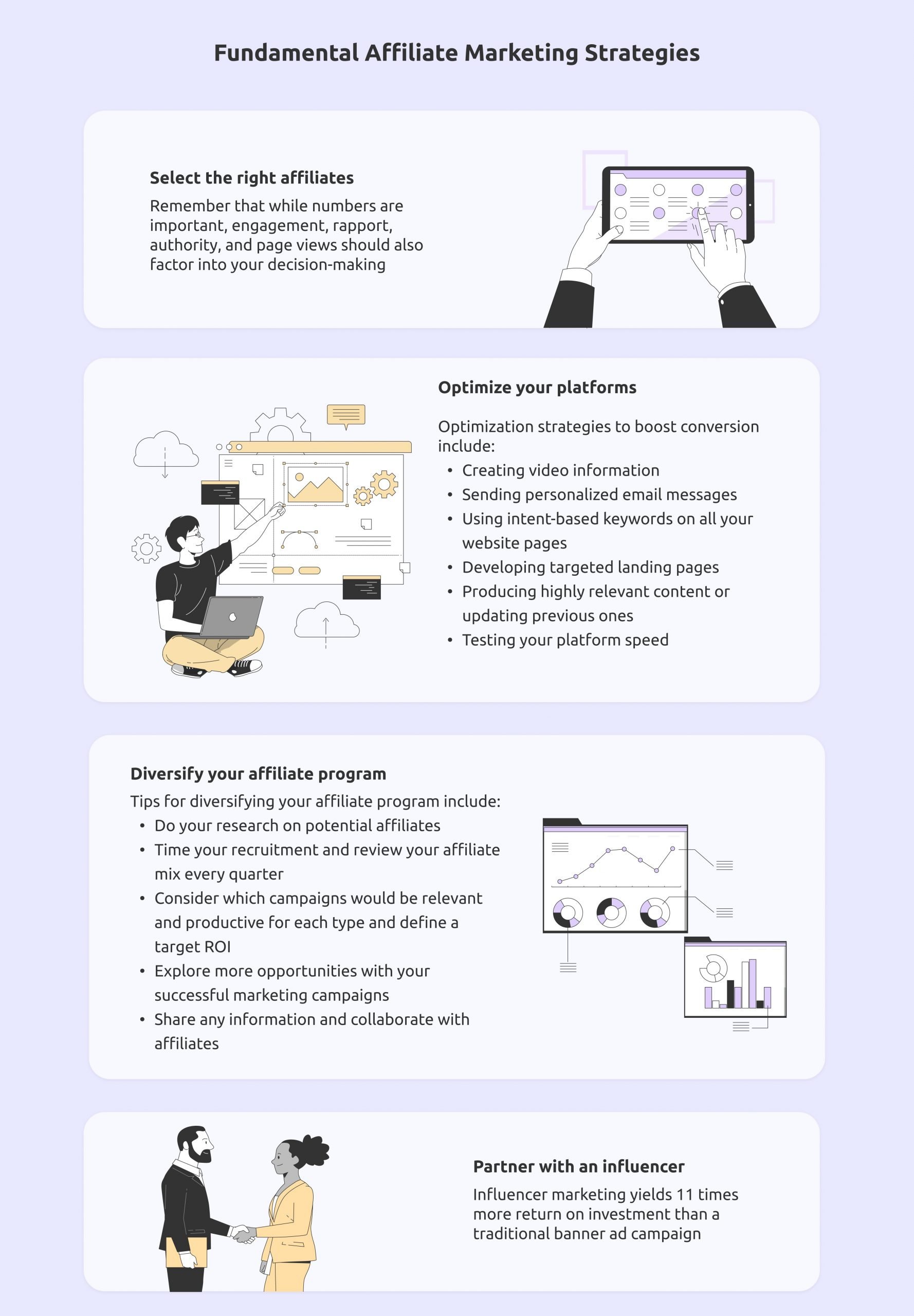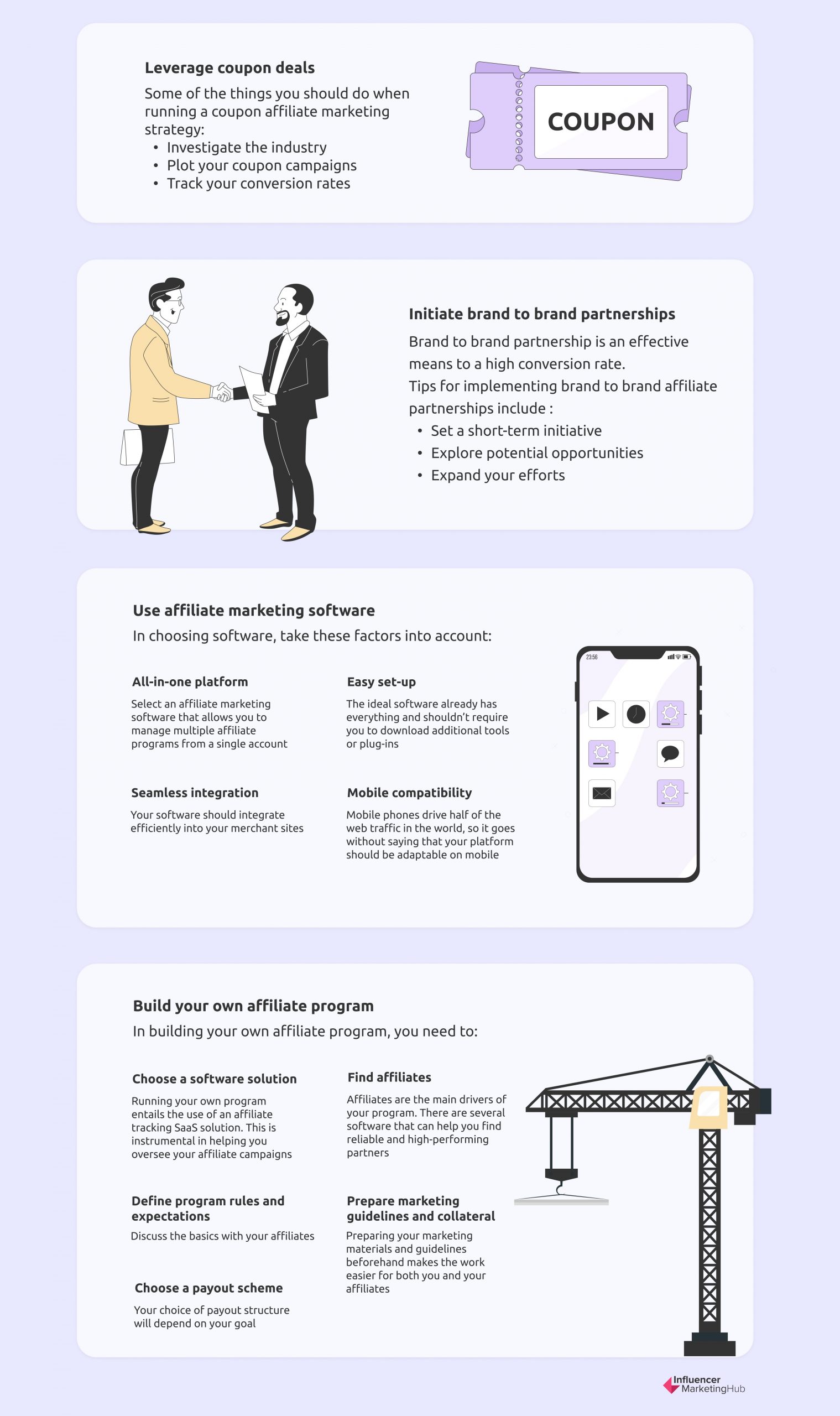 1. Select the right affiliates
Word of mouth is still an effective marketing tool. Naturally, you'd want to look into potential affiliates who already have an engaged following that trusts them. Remember that while numbers are important, engagement, rapport, authority, and page views should also factor into your decision-making.
Moreover, you should also gauge whether the audience would be interested in the products that you're selling. In other words, determine your niche and work with affiliates under the same field of interest or who have an audience that matches your target segment. If you're a tech company, you wouldn't want to choose an affiliate that specializes in pet products.
If you don't know where to begin, you can always use influencer marketing platforms to help you discover and recruit high-ranking affiliates.
---
2. Optimize your platforms
While your arm of affiliates can direct traffic to your site, your main goal should be conversion. That is, when visitors land on your page, they should be engaged enough to take action, whether that's to purchase a product or sign up to your newsletter.
Conversion optimization creates a great user experience, which increases leads and traffic to your website. Other optimization strategies to boost conversion include:
Creating video information
Sending personalized email messages
Using intent-based keywords on all your website pages
Developing targeted landing pages
Producing highly relevant content or updating previous ones
Testing your platform speed
---
3. Diversify your affiliate program
In finance, investors diversify their investment portfolio to reduce risk. It's the same thing with diversifying your affiliate program. Relying on one to two affiliates is a great start, but it might not be sustainable in the long run. To truly maximize your program potential, creating a diversified affiliate program is the way to go. It can also help you tap new audiences and create future opportunities.
Here are a few tips to help you diversify your affiliate programs.
Do your research on potential affiliates and establish a relationship with them on their own platforms. Time your recruitment and review your affiliate mix every quarter.
Provide a marketing strategy for each type of affiliate. Consider which campaigns would be relevant and productive for each type and define a target ROI.
Explore more opportunities with your successful marketing campaigns. If the campaign has performed consistently well within a set timeline, consider expanding your budget for a more elaborate advertising initiative.
Share any information that you can. Discussing the results of your affiliate programs would not only offer solutions for your peers but may even lead to a collaboration.
4. Partner with an influencer
The rise of social media influencers is changing the marketing game. In fact, a poll earlier this year found that 14% of older Gen Z's had bought an item in the previous six months based on an influencer's recommendation. Moreover, a study found that influencer marketing yields 11 times more return on investment than a traditional banner ad campaign.
There are many reasons why influencers make great affiliates. Perhaps the biggest one is that they already have an audience. These content creators don't even need to be celebrities. Many ordinary people with engaging content on social media can build a large following.
---
5. Leverage coupon deals
People love value – even if they're saving just a dollar or two. This is why, even in the age of digital marketing, coupons are continuing to grow in popularity. According to statistics, 60% of online shoppers worldwide actively search for coupons before purchasing from a virtual shop. With people relying more on the internet due to the coronavirus pandemic, saving up has only become a central priority.
Coupons are great because they're not only cost-effective but also measurable. They can drive acquisition of new customers and motivate previous customers to come back for more. Manageable and inexpensive, coupons allow you to have more control over where you distribute your discount.
Here are some of the things you should do when running a coupon affiliate marketing strategy:
Before anything else, conduct extensive research on the industry climate. Evaluate your competitors. How do they reward customers, and which affiliates are promoting them? Then, think about your own coupon or cashback campaign. How long will it run, and what's the discount value that your customers will receive?
Plot your coupon campaigns
Next, review your calendar and schedule your coupon campaigns strategically. Coupons perform well during certain times of the year, such as Christmas or Mother's Day. But you could also benefit from thinking outside the box. Celebrating a company milestone, for example, is a great opportunity for a coupon campaign; so is segmenting your affiliates to decide which ones would do well in which strategy.
Track your conversion rates
Promo codes allow you to review your marketing efforts. They let you track which platforms are getting the most traffic as well as which ones are gaining conversions. This is essential in understanding the needs and habits of your customers. Analyzing those traits and behaviors would also be useful in optimizing deals in the future.
Offering coupon deals has advantages and disadvantages:
| | |
| --- | --- |
| Pros | Cons |
| Reduced cart abandonment | Reduced product value |
| Personalized affiliate and customer experience | Reduced profit |
| Power to track campaigns | |
---
6. Initiate brand to brand partnerships
Co-branding is one of the most effective way to increase the number of email subscribers. 43% of consumers have declared that they would try a co-branded product from a company they already like.
This shows that brand to brand partnership is an effective means to a high conversion rate. All you need is another brand that aligns with your values and targets the same demographic.
Spotify and Starbucks' co-branding campaign to create a music ecosystem is a perfect example of this. By partnering with Spotify, Starbucks gets to create a new coffee shop experience. Starbucks employees receive new complimentary access to Spotify premium as well as power to control the in-store playlists.
On the other hand, Spotify's artists get a wider audience, and customers get free coffee when they subscribe to Spotify Premium. Overall, it's a win-win situation.
When implementing brand to brand affiliate partnerships:
Set a short-term initiative
The first step is to create a short-term campaign with a complementary brand and its affiliates, much like the one that Starbucks and Spotify did. Set actionable and quantifiable metrics, such as cost per lead or return on investment. Always review the outcome and compare it to previous campaigns. Otherwise, it would be difficult to gauge whether your campaign had been successful or not.
Explore potential opportunities
If your campaign has indeed been a success, decide whether there is an opportunity to expand your partnership further. Perhaps you would like to do another campaign to test the relationship. If it proves advantageous for both your brands, then it's time to involve other marketing teams. That means a bigger marketing initiative that could be more long-term.
The final part of the process is to create a more collaborative partnership both online and offline. That entails additional channels for digital and traditional platforms. For example, you could cross-promote on social media or even in-store. You can even create a section on your website specifically for your co-branding strategy.
There are also certain benefits and drawbacks in doing this affiliate marketing strategy.
| | |
| --- | --- |
| Pros | Cons |
| Risk management | Difficulty in evaluating effectiveness |
| Advanced affiliate program growth | Less creative control |
| New audience reach | Profit-sharing |
| Combined budgets | More effort |
---
7. Use affiliate marketing software
Building and managing your affiliate marketing campaigns can be overwhelming. This is where affiliate marketing software enters the picture. These platforms can assist you in tracking, overseeing, and even growing your initiatives. Those, in turn, can increase your e-commerce sales and scale your brand to brand partnerships.
In choosing software, take these factors into account:
Select an affiliate marketing software that allows you to manage multiple affiliate programs from a single account. Running a variety of unrelated programs enables you to streamline all your information in one location.
Your software should integrate efficiently into your merchant sites. Pay attention to its shopping cart solutions. Which e-commerce platforms does it support? Does it come with a customer support software, or would you be able to incorporate one?
The ideal software already has everything and shouldn't require you to download additional tools or plug-ins. Ideally, it works on a browser and is downloadable to your desktop. Moreover, your software should be user-friendly with an intuitive interface.
Mobile phones drive half of the web traffic in the world, so it goes without saying that your platform should be adaptable on mobile. This would be a convenient way for you to manage your programs. At the same time, it would be an easy way for your affiliates to sign in to your platform, track their promotions, and review their commission reports.
Note the following advantages and disadvantages in using affiliate marketing software:
| | |
| --- | --- |
| Pros | Cons |
| Easy management | Monthly cost |
| Fraud protection | |
| Campaign tracking | |
| Deep analytics | |
---
8. Build your own affiliate program
You might start out as a merchant in an affiliate network. But if you're ready to expand your business to another level, you might want to consider building your own affiliate program. This would not only grow more traffic to your domain but it would also give you an opportunity to take control of all your transactions, affiliates, and commissions.
In building your own affiliate program, you need to:
Choose a software solution
Running your own program entails the use of an affiliate tracking SaaS solution. This is instrumental in helping you oversee your affiliate campaigns. It would allow you to communicate with your partners, manage your offers, and compensate your affiliates. Moreover, it can help you review your campaigns' performance and optimize future campaigns better.
There's a variety of software solutions to choose from. Maybe you want an extensive tracking report or multiple commission options. Choose the one with features that can address your business goals.
Define program rules and expectations
Discuss the basics with your affiliates. Pinpoint your target audience and identify the time of day you wish to plot your marketing campaign. Explain which channels would be appropriate for each marketing campaign.
Explaining program rules should be a priority. It would help curb fraudulent affiliate links and shed light on payment issues. It's important to have an agreement with your affiliates regarding duties and expectations. This would help prevent misunderstandings that may not only be costly but damaging to your reputation as well.
Familiarize yourself with the most convenient payout methods (pay-per-sale, pay-per-click, pay-per-lead). Your choice of payout structure would depend on your goal. A practical commission percentage depends on a few elements, such as customer acquisition and retention. Compare how much commission your competitors are offering for the same products. Offering higher commission rates for a limited time could also make your brand a more exciting option.
Affiliates are the main drivers of your program. There are several software that can help you find reliable and high-performing partners. Other techniques to entice potential affiliates include linking your affiliate program to your website, advertising through forums or social media groups, using Facebook or Instagram ads, or emailing your subscribers to join your affiliate network.
Prepare marketing guidelines and collateral
Advertising materials are some of the things that affiliates look forward to when working with a brand. Preparing your marketing materials and guidelines beforehand makes the work easier for both you and your affiliates.
First, it speeds up the promotion process. It allows your affiliates to understand your brand quicker, therefore promoting your products more efficiently. The less time they channel into creating content, the more they have on promotion. Presenting the types of materials that work best for each type of platform also saves time and energy.
Sending marketing collateral to your affiliates also helps them market your most relevant products without losing your voice. You can approve which logo designs they can use, for example. You can also brief them on the tone they apply on copy points and captions they may use in promotion.
Make sure to weigh these pros and cons when building your own affiliate marketing program.
| | |
| --- | --- |
| Pros | Cons |
| Wider reach | High costs |
| Less cost in the long run | More work and effort |
| Full control and customization | More time to expand |
| Increased brand promotion | |
| Fraud protection | |
Frequently Asked Questions
What is an affiliate marketing strategy?
Affiliate marketing is the process of hiring affiliates to promote your business and give them commission on their sales. Affiliate marketing strategies refer to the different ways you use affiliate marketing, or the different types of payment models you can choose for your affiliates.

Do affiliate marketing strategies work?
Affiliate marketing strategies are proven to work for influencers. Many marketers use them to promote their businesses.
What are the best affiliate marketing products?
The best affiliate marketing products are the ones that work within your niche as an influencer. If you are looking to be an affiliate marketer, try choosing a product that you know about – or that you are interested in.
What are the four steps to starting affiliate marketing?
To start affiliate marketing, follow these steps:
Choose a niche
Find affiliate networks or schemes to use
Choosing products to promote
Plan a strategy to promote the products

Editor's Note: Geri Mileva's article was published and updated in influencermarketinghub on 21 December 2022.

#RobrenReview: 8.5 | 10
Published on: 18 January 2023.
Link to this article: https://tinyurl.com/Affiliate8
#affiliate #influencer #strategy