About half of all Chinese males and 26.6 per cent of all people over 15 smoke, a long way from China's 2030 smoking target of 20 per cent of the population.
Researchers forecast the smoking-related mortality rate will rise, causing losses to China's working-age population and more cancer deaths in its aged society.

More stringent tobacco control was crucial for China to "curtail a rising tide of cancer deaths", researchers said after estimating that deaths from smoking-related cancers in the country would rise by about half over the next two decades.
A slow drop in the smoking rate means the country is likely to miss its 2030 target of cutting smoking prevalence to 20 per cent from the current rate of 26.6 per cent, given that about half of all Chinese males smoke and there has been a slight rise in the number of young female smokers.
"Unless widespread efforts to support smoking cessation are made by families, communities and society as a whole, the huge loss of life in the working-age population over the next 20 years will certainly add to the increasing difficulty in supporting China's ageing society and will be beyond the magnitude that any single existing intervention can prevent," they said.

The scientists from the Chinese Academy of Medical Sciences and Peking Union Medical College in Beijing published their findings in the peer-reviewed journal Tobacco Control under the British Medical Journal.


China is the world's biggest cigarette producer and consumer, with 300 million smokers who consume 40 per cent of the world's tobacco.
More than a quarter of the Chinese population aged over 15 are smokers and more than 1 million people die each year from diseases caused by tobacco use, according to the World Health Organization.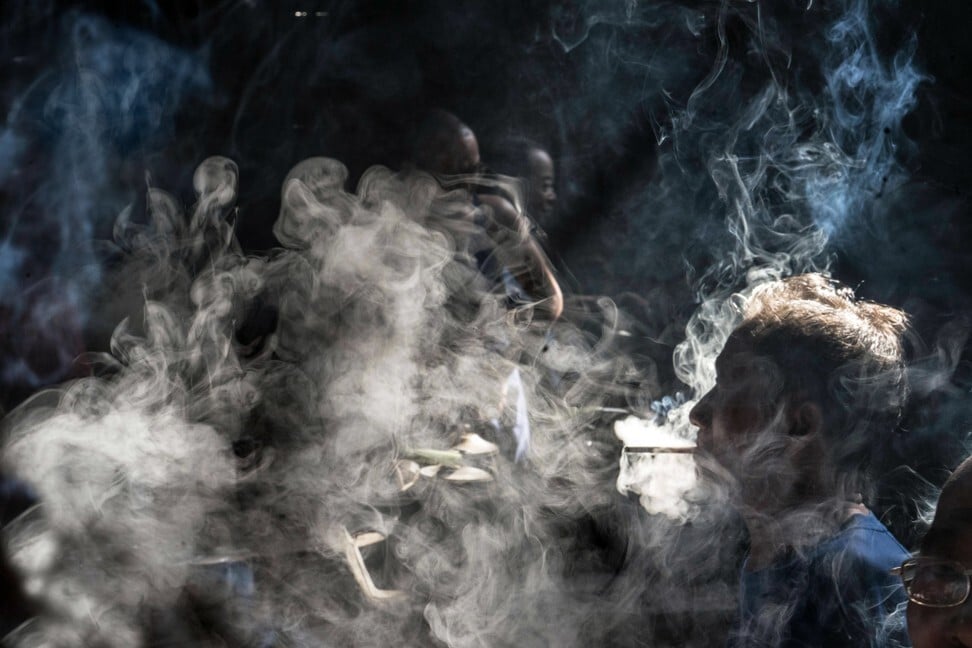 Stopping adolescents from picking up the smoking habit is imperative to China's public health, say researchers. Photo: EPA
The researchers projected that the smoking-related cancer mortality rate from 2020 to 2040 would rise by 44 per cent in men and 53 per cent in women, or 8.6 million excess deaths over 20 years. And 1.4 million deaths would be prevented if the goal was met in 2030 and the trend continued to 2040, according to the model.

Lung, liver, stomach and oesophageal cancers are among 10 types of cancer causally related to smoking analysed in the study, which combined accounted for 60 per cent of all cancer deaths in China.

In 2016, the country set out a national plan "Healthy China 2030" to promote public health and fitness. It aimed to lower the overall smoking rate to 20 per cent by 2030 by raising tax, education, indoor smoking bans and quit-smoking services.


But the researchers said the slow decline in the smoking rate was "insufficient to meet" the goal. From 2000 to 2016, the rate in China dropped from 30 per cent to 26 per cent, compared with from 38 to 22 per cent in Britain and 31 to 22 per cent in the United States during the same period, according to the study.
"The observed rate of decrease in smoking prevalence is far from that required to meet the Healthy China 2030 goal," they said. "Even if this goal was achieved, the increasing trend in excess deaths would be reversed only slightly."
With nearly one-quarter of smokers starting the habit before adulthood, the researchers said "complete prevention of smoking uptake among adolescents is imperative".

Peaks in smoking-related deaths were usually seen several decades after the smoking rate hit a high, the researchers said, pointing to the example in the US where lung cancer deaths in men were at their highest in the 1990s after the smoking rate peaked in 1955.
"Following that pattern, an increase in cancer deaths is expected in China, which alone accounts for 30 per cent of global cancer deaths today," the researchers said.
"The future cancer landscape will be more concerning because China is also shifting rapidly towards an aged society," they said.
EDITOR'S NOTE: Holly Chik's article was published in SCMP.com on 2 November 2021.

#RobrenReview: 8 | 10

Published: 11th November 2021.

China Must Curb Rising Cancer Deaths From Smoking. About half of all Chinese males smoke.