BIG things were already expected of former Criminal Investigation Department (CID) director Tan Sri Zaman Khan Rahim Khan when he was rounded up at the age of 7 into a sekolah pondok in his village of Kampung Serendah in Pasir Mas, Kelantan, with his older cousins.
His maternal uncles built the hut on their land and recruited an imam to teach the children, aged 7 to 11, to recite the Quran.
Zaman's uncle, Idris Hussein, who led the campaign to educate the clan, was illiterate, but his efforts to better their station had borne results by the time Zaman was 11. Idris' stepson had become a teacher — the first civil servant in his village.
So the pressure was on Zaman, the youngest son of Pathan cloth seller Rahim Khan who sold his wares walking from village to village in Kelantan.
Rahim sent Zaman to live with his granduncle, a great bearded man by the name of Ibrahim Khan, who worked as a Tenaga Nasional Bhd washer in Kota Baru. There Zaman enrolled in Kota Baru's SK Inggeris Majlis Ugama Islam Kelantan. It seemed like he was on the road to becoming a teacher when fate intervened.
The thought of becoming a police officer never crossed his mind until he applied for the job after completing his Higher School Certificate in Victoria Institution, Kuala Lumpur.
At 20, Zaman grudgingly enlisted as a cadet, setting aside an acceptance into Universiti Malaya for a Bachelor of Arts degree due to lack of funds.
However, today with 35 years of police work under his belt, Zaman could very well hold the record for handling some of the most high-profile cases in the history of crime in Malaysia.
Some notable cases include the Japanese Red Army hostage situation, shoot-outs with Botak Chin (Wong Swee Chin), the Highland Towers tragedy, taking down Bentong Kali (P. Kalimuthu) and crippling a ring of secret societies, which plotted the return of communism in the late 1970s, against the backdrop of the Sea Park wet market.
Then there was the mysterious disappearance and gruesome murder of Batu Talam assemblyman Datuk Mazlan Idris by Mona Fandey (Maznah Ismail), her husband Mohd Affandi Abdul Rahman and their assistant Juraimi Husin in 1993, which still sends shivers down the spines of many Malaysians.
Zaman started his career in 1962 as a cadet with a salary of RM460, rising to Prisons Department director-general before retiring in 1997.
Along the way, he was police chief for five districts and served as the police chief for Penang and later Kuala Lumpur. From 1989 to 1993, he held the hot seat of federal police CID director.
But it all started when he decided to take the advice of his friend, (Tan Sri) Abdul Rahim Abdul Rahman, to apply for police cadetship.
"I was depressed in my kampung when my friend, now the Rahim & Co founder, told me to join him and apply for a cadetship."
They went to the Pasir Mas district police headquarters to get the forms, and the district police chief at the time, Chief Inspector Tan Bian Guan, saw their school exam results and discouraged them from pursuing a career in the police force.
"'Why you all are so stupid! Look, I have worked so long. I have been a police chief for 15 years. You still want to join the police?'" he shouted.
Although Zaman prevailed, Rahim found another calling.
THE RELUCTANT POLICEMAN?
By his own admission, Zaman was not always the first to jump into action.
Zaman remembered asking himself "why me?" several times in his career.
Two of the instances where Zaman had wished to be in someone else's shoes were among the most memorable incidents in Malaysia's police history.
The first was the Japanese Red Army siege of the AIA building in Kuala Lumpur in 1975 and the second was the collapse of the Highland Towers apartment block in Ulu Klang following a landslide in December 1993.
Scores were trapped under the rubble. By the time the 11-day operation ended, there were two survivors and 48 dead.


"Highland Towers was not my job. I was the director of CID. I was half dead that day. That morning itself, three bodies of Indonesians were found hanged at a building that was under construction.
"I was about to have lunch at a Malay restaurant in Bukit Bintang when someone from the Fire and Rescue Department called and said a tree fell and struck a building. I said that's not my job.
"The second call came five minutes later, saying that the flats had collapsed with many killed. So whether it was my job or not, I had no choice.
"I was there for three or four days even though my house was nearby in Setapak. I didn't go back. I took pity on the ones who died. We also found a baby alive, under all the rubble."


JAPANESE RED ARMY SIEGE, 1975: MALAYSIA'S FIRST HOSTAGE SITUATION
Zaman was on his last day as Special Action Unit deputy commander when he stopped by Bukit Aman to check in on his bosses before taking up the post of Selangor CID chief.
"I had just said goodbye to (then) inspector-general of police Tun Mohammed Hanif Omar and his deputy and when I passed my old office, my commander Assistant Commissioner M. Shanmugam and a big group were rushing here and there.
"I said 'hello and cheerio' and was on my way when he said 'no, no don't go' and I told him that I had to report for duty. I was already reaching my car when they (my colleagues) ran towards me. They took my briefcase and said 'Japanese, Japanese' and that was it."
Zaman was then forced to volunteer as deputy operations commander under Shanmugam as "everyone looked at each other" when the roles were assigned.
What followed was probably the longest week in Zaman's life. The stakes were high: 53 hostages, including 15 diplomatic staff from the United States and Swedish embassies, were held captive on the ninth floor of the AIA building by five gunmen. The security guard had already been shot.
Their main demand, the release of JRA members in Japan, was something very much out of Malaysia's hands.
"We started out thinking we could attack them but as luck would have it, when we arrived at the building, we saw wires running all the way up to where they were holding the hostages. It was booby trapped."
Zaman said the captors threatened to kill all the hostages at first, but exhaustive negotiations by former foreign minister Tan Sri Ghazali Shafie with the Japanese government and the group proved fruitful.
Besides the release of JRA members by Japan, their demands included having them transported by plane to Malaysia and allowing the captors and their comrades free passage out of the country via the aircraft.
"After the release, we thought we would attack them while they entered the cars, I even volunteered to be in the vehicle. But we dropped it. It was too dangerous, they were a well-trained, diehard militant group and there was the crowd and the possibility of more hostages being taken."
Zaman said there was a short-lived attempt by the group to backtrack on their word and delay the exchange of the hostages, asking for the released JRA members to be allowed to rejoin them first.
However the police, having none of it, stood their ground and only released the five after the last hostage was freed.
"Even after they left we stuck around to deactivate the bomb."


BOTAK CHIN
Zaman was the Special Actions Unit deputy commander in the 1970s when Botak Chin's trademark of armed robbery and shoot-outs with the police had already rewritten the scale of crime in the nation.
"He was the boldest criminal at that point. And my mission was to get him alive. We planned numerous attempts to house him, but he smelled a rat in all of them."
Zaman said that one sting in Jalan Kovil Hilir burned fresh in his mind.
"We waited and he showed up at the hardware shop he was due to extort money from. It wasn't long before guns were drawn. I waited at the window to shoot, but he jumped like a cartoon and escaped.
"When I was inspecting the drawer, the accomplice rolled out of hiding and aimed at me, but one of my officers shot him down."
Zaman said it was hard to get any information on Botak Chin as his network of supporters among the poor was extensive.
"Sentul, Segambut and Jalan Ipoh were 'untouchable'. He would know when an officer gets there.
"We had to rely on intelligence, but we also had our man on the ground. There was one incident that we were all ready for an ambush at a carpet shop in Jalan Ipoh following a tip-off, but he didn't turn up.
"We even rushed to a bungalow in Kenny Hills, which he rented, but missed him by a couple of minutes. The food was still there. They had their own exit password."
But the law caught up with Chin when he was captured at a sawmill off Jalan Ipoh in 1976. He was later executed in 1981.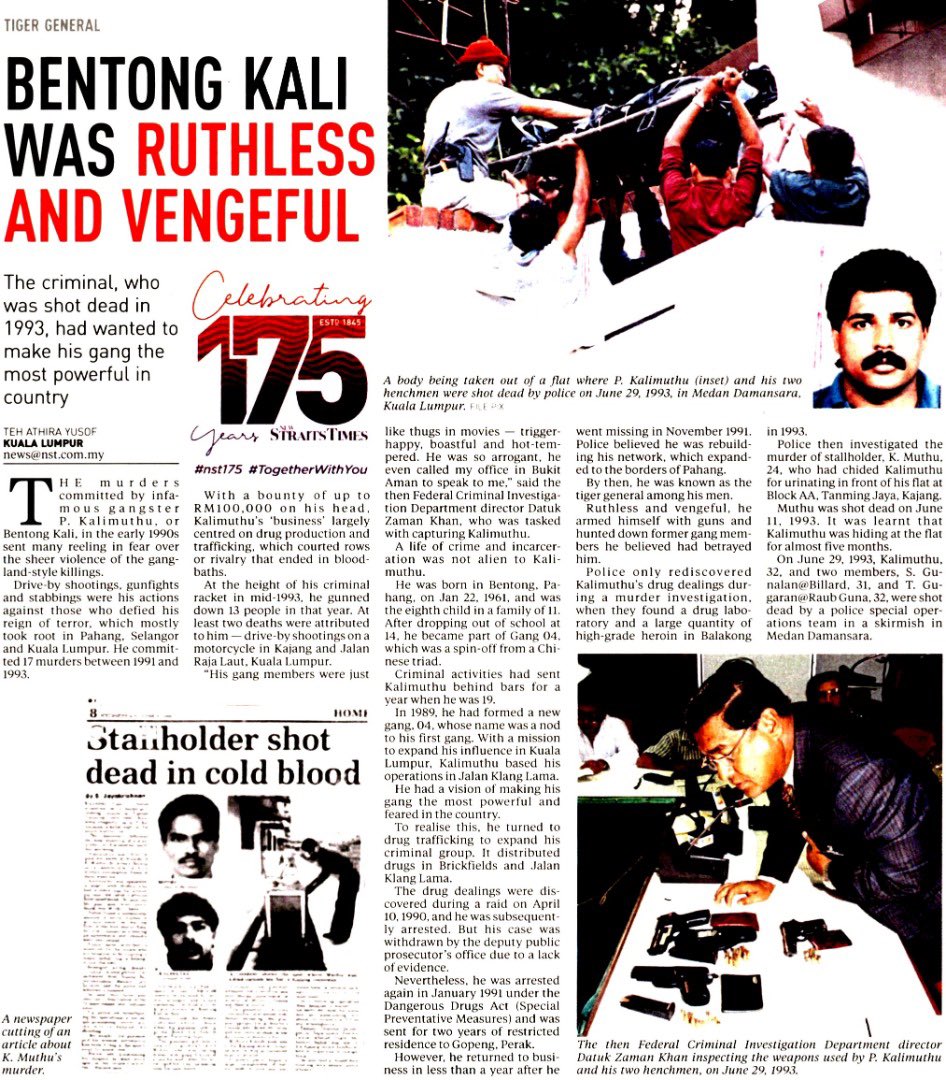 BENTONG KALI
Zaman said Bentong Kali and Botak Chin were in different leagues.
"Bentong Kali tried to dominate KL, (but) he became too bold. His gang was just like thugs in the movies — trigger happy, boastful and hot tempered. He killed an innocent man who told him not to pee by the roadside; he murdered another man who warned him about the presence of police."
Kalimuthu reportedly killed at least 16 people between 1991 and 1993, so much so that a bounty of RM100,000 was put on his head.
Zaman said while the police were looking for him all over the country, he was holed up in Bukit Damansara.
"He was so arrogant, he even called my office in Bukit Aman to speak to me."
Zaman said while there was a shoot-on-sight order, when Kalimuthu was shot during a sting in 1993, no one believed that his special operations team got the right guy.
"They thought we just shot a random man. Even my IGP that time called to ask whether I was sure that it was Bentong Kali.
"But when I confirmed it, I believe it was the first time that I witnessed reporters and the public applauding."


MONA FANDEY
Within days of the high-profile disappearance of rising Umno politician Datuk Mazlan Idris,
Zaman, who was in his final days as Federal CID director, was already handling the case personally.
Talk was rife that the case on the missing politician had a insidious political motive that even Tun Dr Mahathir Mohamad was on high alert.
"After the first few days, we began to get more stories. Mazlan believed in fortunes told by nujum (fortunetellers) and pawang (traditional healers). Some claimed he even went as far as Negri Sembilan, Melaka and Indonesia to consult them.
"Around the time he went missing, there was an election for the party's division chief. We started to dig and found out that he had consulted a woman, Mona (Fandey, whose real name was Maznah Ismail).
"So we tracked Mona, her husband and her servant to the house in Raub, Pahang. It was there that we found Mazlan's skull," he added.
Zaman said when police officers presented Mazlan's skull to the then Pahang Menteri Besar Tun Dr Mohd Khalil Yaakob, he was shocked.
It was later discovered that Mazlan's body was cut in 18 parts and stuffed 1.8m deep in a cemented grave around the same area.
He said Dr Mahathir called him to check if the murder was free from political motives. "I said 'no, this was all because of Mazlan's beliefs'."
Zaman said Mona kept quiet during interrogation and only broke down when pressed about the politician's watch, which the police had traced to a man she was close to.
"I asked her 'how could you give the watch of a person you had killed to a man you regarded as your brother?'. She then cried and told us where the rest of Mazlan was."
Zaman said all the while his longtime personal assistant Zainab also tried to dissuade him from investigating the case personally.
"My driver fell ill when they were searching the area. Some time later, I also fell sick. My legs were red and swollen and I started having high fevers and I would tremble even under the blanket.
"My wife and Zainab were convinced I was a victim of black magic, but a while later we discovered it was cellulitis while I was in Mongolia for an Interpol conference with Tun Hanif."
Zaman was Prisons Department director-general from 1994 to 1997 when Mona was locked up in Kajang prison.
He said that rumours of Mona's powers did not stop as the public claimed to have seen her dancing in nightclubs.
In 2001, four years after Zaman retired, Mona, her husband and their assistant Juraimi were hanged to death for Mazlan's murder. The trio were also implicated in a number of other murders but these remain unsolved.


THE BRIEFCASE FALLS
While Zaman admits to having a pleasant relationship with the late politician Karpal Singh, one particular occasion where they crossed swords has gone down in history.
The 'duel' emblematic of the fiery state assembly sessions in Penang in the 1980s has also been immortalised in a Lat cartoon.
It was 1981 and Karpal who was under suspension as Bukit Gelugor assemblyman, had walked into the Penang State Assembly and refused to budge.
The sergeant at arms had already tried to show him the door and the Speaker had called the police. But the Tiger of Jelutong kept roaring.
"This is a state assembly and you have no place here. Touch me and I will sue."
As there are different versions to this, Zaman felt the need to clear the air.
"There was a hooha in the state assembly and they rang me up as I was Penang CPO (police chief) at the time. According to the law, the Speaker must request for him to be removed in writing."
So he got three burly Sikh policemen to accompany him to the state assembly.
"When I arrived at the state assembly, it was a circus. People all throwing paper planes at each other. When someone shouted 'CPO sir sudah mari!' (The CPO has come), they stopped in their tracks.
"I asked Karpal nicely to leave but he refused. I then signaled my reinforcements, and he relented but walked out without his briefcase."
This is where the story differs, from the way things appeared and Zaman's account.
Zaman claimed that he pulled a tablecloth and the briefcase fell, and he was just about to pick it up when Karpal swiped at the chance and ordered him to "pick it up!".
Although Zaman had given his official account, many believed that Zaman had grabbed the briefcase and walked out, forcing Karpal, a practising lawyer, to follow him into the lobby, where the former threw the briefcase on a table hard.
That was when Karpal taunted: "Pick it up. Pick it now! Pick. It. Up!" which prompted Zaman to coyly retrieve it and put in on the table before walking away.
POLICEWORK AND HUMANITY
Zaman's success throughout his career did not go unnoticed.
"I may have been reluctant before I became a cadet but from the moment I was chosen I vowed I would do my best. If you are interested in police work, your instincts are naturally honed. When you work long and hard you become an excellent officer."
He also said that police work took sacrifice, adding that when his children were born he would sleep separately from his wife so as not to disturb her when he left the house early.
"There were countless nights that I spent in stations and my office as well. When Tun Abdul Razak died, I was on duty in Klang. I also used to sleep on a folding bed we confiscated in a raid on a gambling den when I was Selangor CID chief. So many days of leave were forfeited because I had a job to do."
Zaman who was also one of the more educated police officers in the force during his time, also never stopped learning.
"I was sent to learn about how to deactivate explosives overseas. I came back and applied what I learned here.
"It was also during my time as Federal CID director that a push was made to start forensic investigations."
Zaman's no-nonsense approach to his professional work earned him great respect and admiration from his peers.
He recounted a time when he got a confession out of a cop, who was Klang OCPD, accused of smuggling mercury pallets.
"We interrogated him for a long time but he refused to talk. I took off his cuffs before his wife and children saw him. And I was rewarded with his admission the very same night."
Zaman stressed that he was not prepared to condemn his fellow officers despite their reputation.
"They are better officers now because there is better training and such. But what we have to do is take care of the rank and file, make sure they have fair pay and reasonable working conditions near their families and so on. This will keep them away from corruption. The big guns who take bribes, however, should face the full force of the law," he said.
He suggested that the force conduct psychological testing for cadets and periodical follow-ups on personnel to help them cope with stress.
LIFE COMING FULL CIRCLE
Life has come full circle now. The politician Zaman was assigned to keep watch in the 1960s when he was district police chief of George Town, is serving his second tenure as prime minister at the age of 93.
Zaman, who sits on the board of a couple of companies, also juggles his time between undergoing dialysis treatment three times a week and doting on his wife Puan Sri Rosnah Ahmad who is suffering from dementia.
The couple have 21 grandchildren and two great grandchildren.
A shoulder injury had forced him to stop playing golf and exerting himself while gardening.
Nevertheless, Zaman's steely dedication continues to shine in humanitarian work, helping a few charity organisations for HIV and AIDS care and awareness, as well as giving talks to students at universities.
At 81, Zaman still lives life to the fullest.

Editor's note: Veena Babulal and Teoh Pei Ying's article was published in the New Straits Times on 23rd June 2019.

#RobertReview: 9 | 10

Published: 4th June 2021.

Editor's Notice:
Former CID chief Zaman Khan dies on 11th September 2021, at the National Heart Institute (IJN). He was 80.

#KarmicDebts
#TheLawOfRepulsion
#ZamanKhan
#MonaFandey
#BotakChin
#BentongKali
#HighlandTowers
#JapaneseRedArmySiege