There was the earliest Malaysian sitcom called "Empat Sekawan" or "4 Friends" in the 60s, three decades before Friends debuted in 1994.
I remember one particular episode when Hoi Ah Yong smelled a salty fish each time he ate a chopstick-spoon full of plain white rice, without any "soong" meat or vegetables. I remember thinking wow, that was very poor and an extreme way of tightening the food belt.
I have lived on cheap meals such as a corn on the cob (US$0.35/ RM1.30) and one piece of toast, a piece of curry chicken breast and rice, a bowl of instant noodles, or 2 pieces of Roti Chanai (US$060/ RM2.40).
I once lived in a 400 square feet office in Wanchai, the seedy part of Hong Kong Island for 6 months over winter. Every day I would take a bus to YWCA on 1 Macdonnel Road, Mid-Levels, and take a shower in the gym. My family did not know how poor I was in that year in Hong Kong.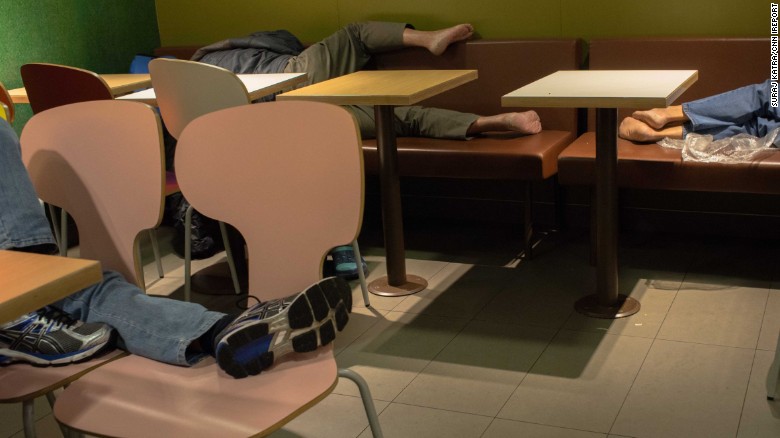 In October 2019, I became a McRefugee for one night. I slept on a long bench in a 24/7 McDonald Carnarvon Road branch in Tsui Sha Tsui, with nearly 8-9 other McRefugees, who normally sleep from 11pm to 6am. At first I tried to sleep on single table. Then I got braver to stretch my whole body and finally tried to sleep from 3 am to 6am, when I had a rude wake up call, an assertive McDonald supervisor banged at the tables to wake up all McRefugees to sit up or get out.
A tip to be a Hong Kong McRefugee: the air con becomes more freezing at night, with less people. Wear some layered clothing.
● Ways to Cut Back:
Snacks such as nuts, chocolate, ice cream tend to be more expensive by weight and value.
But I do enjoy 3-4 pieces of Roma (Indonesian brand, my favorite) or Hup Seng (Malaysian brand) Cream Crackers dunked in a mug of hot Malaysian White Coffee.

● Ways to Save:
Buy pastries at 50% in Village Grocer, usually after 8pm.
Buy sushi at 50% at most supermarkets in Hong Kong or Kuala Lumpur – from 9pm to 10pm.

My Mum shared with me how she saves money by eating sometimes salty fish, salty meat, or salty duck egg with congee, or a few pieces of bread as one meal.
● Q. What are some ways YOU use to save money and tighten the Food Belt?
Written by: Robert Chaen, a Social Experiment McRefugee
Published: 24th July 2020.
___________________________________
Watch YouTube video on McRefugees: https://www.youtube.com/watch?v=P2d9sUvg95s
Hong Kong McDonald's McRefugee Sleepers: a Social and Poverty problem in Hong Kong.
There are around 400 people who sleep the night at the 24/7 McDonald's. Some even have a property but prefer to enjoy the air con, save money and rent by sleeping at McDonald's.
More than 70% of respondents said they had other places to sleep, such as public housing flats or subdivided units, and the majority had either full-time or part-time jobs, challenging the common perception that these sleepers are homeless or unemployed.
One main reason is that many sleepers face socioeconomic challenges such as high rents or electricity bills.
#RobertsTravelsInHongKong
Why so many people sleep in McDonald's in Hong Kong: CNN https://tinyurl.com/y3rwc6wy
___________________________________
Robert Chaen's Hong Kong Foodie Guide: Cantonese Food Names Reference
___________________________________