Self-Mortification During THAIPUSAM FESTIVAL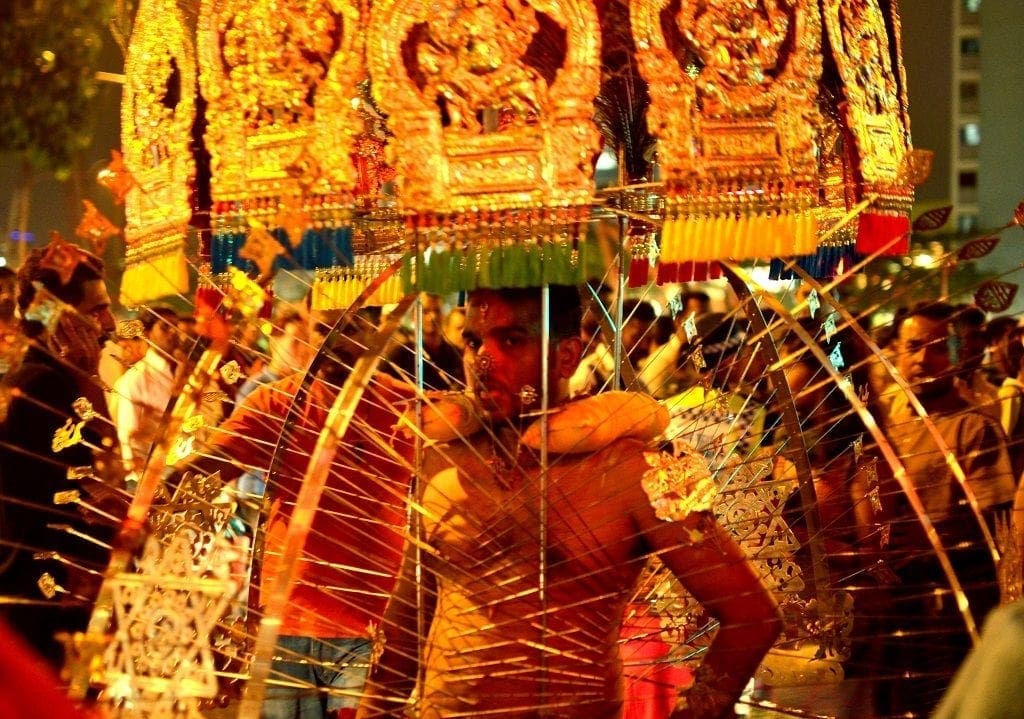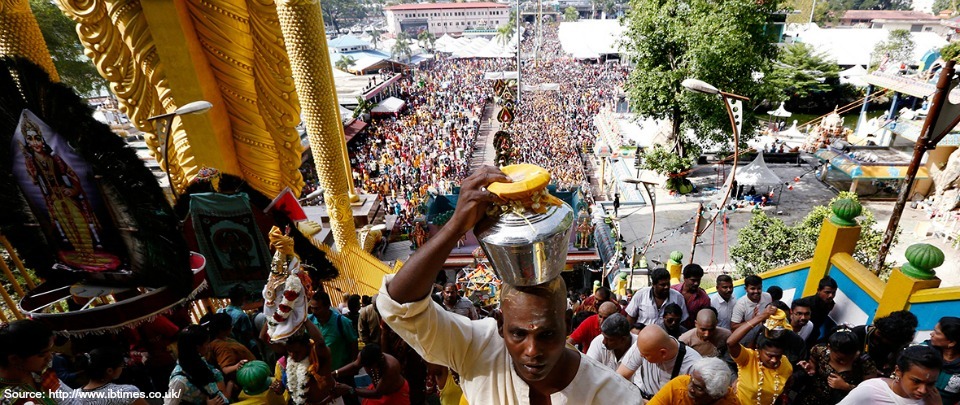 Thaipusam or Thaipoosam (Tamil: தைப்பூசம்), also known as Thaipooyam in Kerala (Malayalam: തൈപ്പൂയം), is a festival celebrated by the Tamil and Malayali communities on the full moon in the Tamil month of Thai (January/ February), usually coinciding with Pushya star, known as Poosam in Tamil and Pooyam in Malayalam.
It is mainly observed in countries where there is a significant presence of Tamil community such as India, Sri Lanka, Malaysia, Mauritius, Singapore, South Africa, Canada and other places where ethnic Hindu Tamils reside as a part of the local Indian diaspora population such as Réunion, Indonesia, Thailand, Myanmar, Trinidad and Tobago, Guyana, Suriname, Jamaica and the other parts of the Caribbean.
It is a national holiday in many countries like Malaysia, Sri Lanka, Mauritius. In certain states of Malaysia and in the nations of Sri Lanka and Mauritius it is a government and a bank holiday.
The word Thaipusam is a combination of the name of the month, Thai, and the name of a star, Pusam. This particular star is at its highest point during the festival. The festival commemorates the occasion when Parvati gave Murugan a Vel "spear" so he could vanquish the evil demon Soorapadman.
It is commonly believed that Thaipusam marks Murugan's birthday; Some other sources suggest that Vaikhasi Vishakam, which falls in the Vaikhasi month (May/June), is Murugan's birthday.
The Kavadi Attam ("kavadi dance") is a ceremonial act of devotional sacrifice through dance, food offerings, and bodily self-mortification. It is often performed by devotees during the festival of Thaipusam in honor of Murugan. The kavadi is a semicircular, decorated canopy supported by a wooden rod that the pilgrim carries on their shoulders to the temple. The devotee makes the pilgrimage (the nadai payanam) with bare feet, bearing food offerings on the kavadi.
Devotees prepare for the celebration by keeping their body always clean, doing regular prayers, following a vegetarian diet and fasting before the Thaipusam. Kavadi-bearers have to perform elaborate ceremonies at the time of assuming the kavadi and at the time of offering it to Murugan. The kavadi-bearer observes celibacy and consumes only certain types of foods known as satvik food, once a day, while continuously thinking of God.
On the day of the festival, devotees shave their heads and undertake a pilgrimage along a set route, while engaging in various acts of devotion, notably carrying the various types of kavadi. The devotees believe that worshiping lord Murugan every year in this way makes them physically and mentally healthy, and helps clear them of karmic debts they may have incurred.
At its simplest, the pilgrimage may entail walking the route carrying a pot of milk, but mortification of the flesh by piercing the skin, tongue or cheeks with vel skewers is also common. In addition, some pierce their tongues or cheeks, all the way through, with a small spear.
#RobertReview: 9 | 10
Thaipusam Festival: The Story of Murugan and Self-Mortification
____________________________________________________________________________________
Watch #RobertsTravels Batu Caves Tour video.
YouTube video: https://tinyurl.com/y5dyehq5
Facebook video: https://tinyurl.com/yxrtbdzf
Hashtags:
#RobertsTravels
#BatuCaves
#TopTouristAttractionsInKualaLumpur
Re-Published: 8th February 2020 @Thaipusam
____________________________________________________________________________________
Batu Caves Tour & Dress Code: Kuala Lumpur's Top Tourist Attraction
____________________________________________________________________________________