It is hard for the authorities to meet anti-extradition protesters' demand for democracy, but there must be a public accounting of the saga. Hong Kong faces its biggest crisis in 22 years, but no official has assumed responsibility
With summer coming to a close, the protest movement of nine weeks is nearing an inflection point. Incidents of violence against protesters and the unprecedented participation of civil servants in protests that have paralysed the city present a challenge to Beijing.
Armed suppression risks destroying the appeal of a global business centre, but failure to resolve the crisis could encourage protesters in Hong Kong and elsewhere in China.
The mass protests have brought into sharp focus the fundamental flaw in Hong Kong's relationship with China. Beijing exercises sovereignty, but the people of Hong Kong expect to choose their government.
The huge anti-government protests began with a single demand: withdraw the extradition bill, which if passed would have made it legal for Hong Kong people to be sent to the mainland for trial. The government suspended the bill, but refuses to withdraw it despite widespread demands.
As a result, other demands have emerged, including one not within the power of the Hong Kong administration to grant – for democracy. This was so five years ago during the Occupy movement, and it remains the case today.
Chief Executive Carrie Lam Cheng Yuet-ngor clearly understands the hunger for democracy. At a press conference on July 9, she linked the current movement to the Occupy campaign of 2014, suggesting she believed that the protests reflect problems that have gone unaddressed.
Since the primary issue behind Occupy was election of the chief executive by universal suffrage without pre-selected candidates, a reporter asked if the government planned to "restart political reform". Lam immediately backed off, saying the deep-seated problems could be economic or political and first must be identified.
Britain, in its 150 years as colonial master, did not allow democracy in Hong Kong. Until 1984, when London agreed to hand the colony to Beijing in 1997, the city's legislature was appointed, and top government officials were British. But the colonial system did allow personal freedoms that were treasured.
Hong Kong people were assured that, under the creative formula of "one country, two systems", they would govern themselves and that existing legal, economic and social systems would remain unchanged for 50 years.
From the Hong Kong perspective, China hasn't lived up to its promises.
Since 1997, China has hand-picked Hong Kong's executives. As a result, they are perceived as Beijing's man or woman in the city rather than leaders whose job is to defend Hong Kong and the interests of its people.
To Beijing, Hong Kong people – with so many more rights than the 1.4 billion people on the mainland – appear ungrateful.
With summer's end and schools reopening, the protest movement may lose one of its major constituencies: students. Of the 43 charged with rioting, 14 were students, the youngest a 16-year-old girl. But the movement's intensity shows no signs of weakening. Moreover, there can be no return to normalcy without a public accounting of the extradition saga.
China will not allow the kind of democracy that other countries take for granted. Beijing fears that if it grants Hong Kong genuine democracy, provinces across the mainland will make similar demands, rendering the country uncontrollable by the Communist Party.
In lieu of democracy, there is a need for accountability.
The system isn't working. Hong Kong faces its biggest crisis in 22 years, but no official has assumed responsibility. Beijing is shielding the top person responsible, the chief executive. For proper governance in Hong Kong, Beijing must support a genuine system of accountability – which is possible with "one country, two systems".
Frank Ching is a journalist and author of Ancestors: 900 Years in the Life of a Chinese Family.
Source:
Beijing won't grant Hong Kong real democracy, but it must at least hold Carrie Lam accountable for the political chaos

#RobertReview (Hong Kong): 9.5 | 10
One of the best and insightful articles about the Hong Kong protests.
Beijing fears that if it grants Hong Kong genuine democracy, provinces across the mainland will make similar demands. But the world trend has gone towards democracy where people have ownership and feel they have a say in how the government should be run – not a totalitarian communism where government that is centralized and dictatorial ('President for Life' President Xi) and requires complete subservience to the state.
#EducateYourselfAboutHongKongProtests
Published: 10th August 2019.
Updated: 13th August 2019.
______________________________________________________
Read related articles >>
If Carrie Lam has any love for Hong Kong, she must clean up her political mess to break the cycle of violence
When even civil servants are protesting, Chief Executive Carrie Lam Cheng Yuet-ngor's goose is cooked.
If the police continue to use force, the city will only become more divided. The government must avoid a replay of the "228 incident", an uprising in Taiwan that was brutally crushed by Kuomintang troops. If something like that were to happen in Hong Kong, the hatred of the government and the Communist Party would last for generations and there would be no way back.
However, I must state that the gangsters who assaulted innocent civilians should not be pardoned. They must be arrested and prosecuted as soon as possible.
Lam is a Hongkonger too. If she loves the city even a little, she should show courage and start solving problems. Unfortunately, her press conference on the general strike on Monday was a big nothing, as she provided no solutions. Instead, she has done a Leung Chun-ying by condemning the movement as a challenge to Beijing's power. Her motive is obvious: she is standing with Beijing, no matter what.
It is sickeningly clear that Lam is selfishly and ruthlessly sacrificing Hong Kong's future for her own political fortune. If she has even a tiny bit of conscience, she must act to stop the violence across the city and jump-start open dialogue with the general public.
By Albert Cheng King-hon is a political commentator.
____________________________________________
Read related articles >>  #EducateYourselfAboutHongKongProtests  >>
What is the Hong Kong Protest turning into? POLL
________________________________________

From the Hong Kong perspective, China hasn't lived up to its promises – that existing legal, economic and social systems would remain unchanged for 50 years. CE Carrie Lam should at least be held accountable for the chaos.
________________________________________
The Worst Atrocities Committed by the totalitarian Communist Party of China. Over 50 MILLION KILLED – more than any other government in modern history.
_____________________________________
Chinese diplomatic missions support Mainland Chinese international students (a subject of scorn) and robust rebuttals to those who disagree with China's stance and international scrutiny of Beijing's Communist policies.
_____________________________________
Hong Kong Volunteer First-Aiders: The Unsung Heroes
Watch video from the eyes of First-Aiders on the injuries inflicted by the excessive use of force and over 2,000 rounds of tear gas by the fully armored HK Riot Police.
Click Video here <<

_____________________________________
China 'Bian Kong' Border Control system can bar anyone from leaving or entering China. Another system by the World's Most Ruthless People-Controlling Totalitarian Communist Government.
_____________________________________
BLACK MIRROR SYSTEM IN CHINA. Chinese should reject China's "1984 Big Brother" Totalitarian Social Credit System.
_____________________________________
Don't Cry For Us, Hong Kong. Why Hong Kongers will remain The Biggest THORN on the Side of CHINA?
_____________________________________
他們無法殺死我們所有人 ● They Can't Kill Us All ● Hong Kong protesters have decided enough is enough
_____________________________________
The Next Revolution will take place in Hong Kong JAILS 下一場革命將在香港監獄舉行
_____________________________________
"Liberate Hong Kong. Revolution of our times." 光復香港 时代革命. Who is Edward Leung Tin-Kei (梁天琦) who originated 'The Writing Is On The Wall' which Changed The Protesters' Focus for Hong Kong?
_____________________________________
Can you IMAGINE what will Hong Kongers do IF there was a P.L.A. Crackdown IN HONG KONG? Hong Kongers are the only people who dare to commemorate Tiananmen Square JUNE 4th 1989 MASSACRE and fight The Totalitarian Communist Party of China over this for the last 30 years.
_____________________________________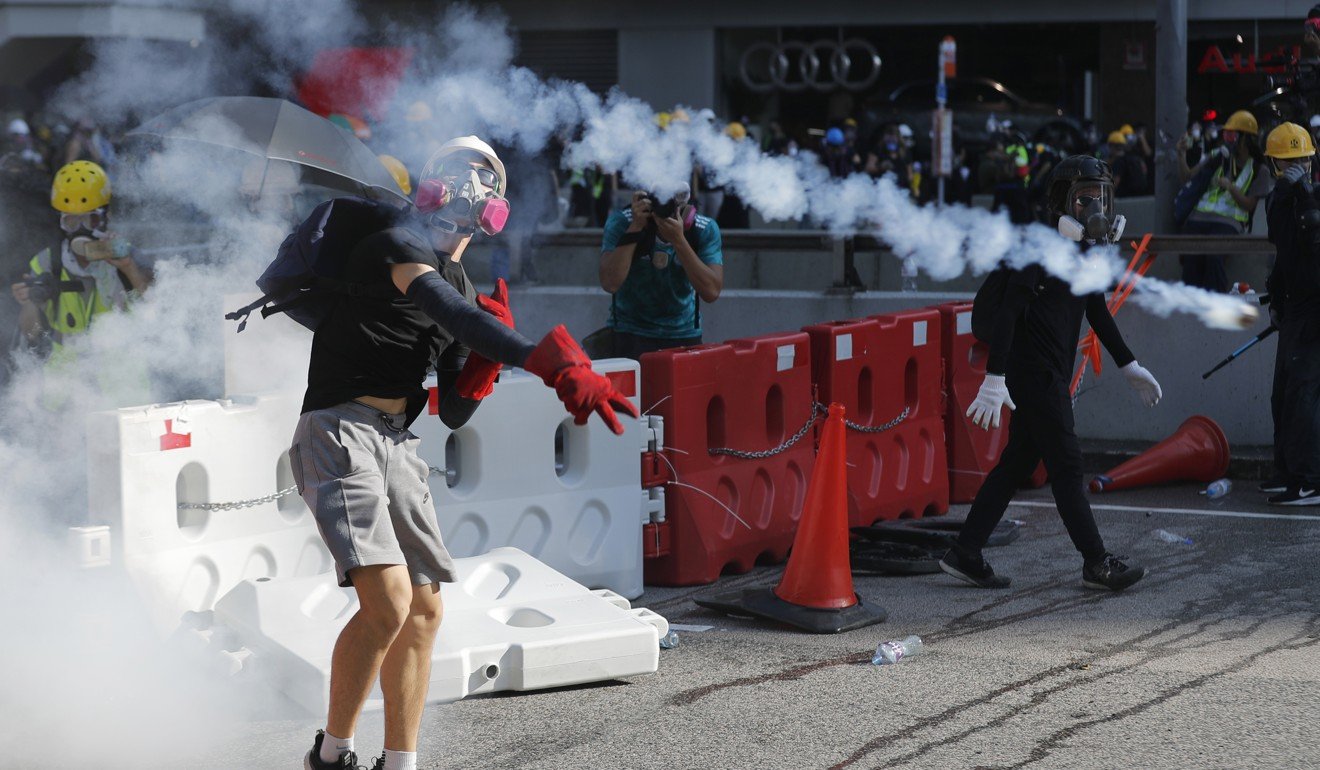 Have Singaporeans misunderstood the nature of Hong Kong protests?