With the power to change the world, here's why the US and China are fighting over our 5G future
Some experts argue 5G will change the way we live forever, powering a new data-driven industrial revolution
China realises that the advent of 5G is its chance to get out in front for the first time in the development of wireless communications technology
[EXCERPT]
This is the first part in a series by the SCMP analysing the likely impact of 5G wireless technology on the way we live and work.

Simply put, 5G means faster internet connections with huge capacity. 5G wireless networks will provide the connectivity backbone for a host of industrial "Internet of Things" applications that work on big data, such as AI-powered manufacturing and smart city processes and even the traffic infrastructure for a world where driverless cars are the norm.
"Eventually the technology will help us to create a brand-new seamless experience between [the] online and offline [worlds]."
5G has been identified in China's 13th Five-Year Plan as a "new area of growth", and Shenzhen-based Huawei is currently the front runner in the race to supply 5G gear to telecoms companies around the world.
The US knows it is lagging behind.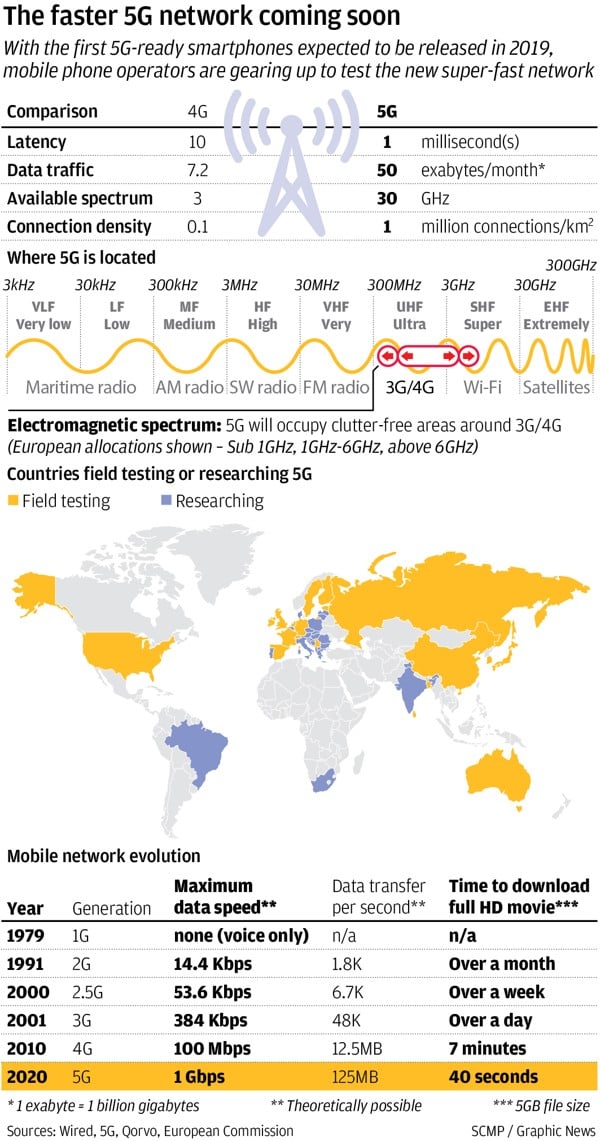 "The country that owns 5G will own many of these innovations and set standards for the rest of the world … that country is currently not likely to be the United States," the paper concluded.
Broadly speaking, the applications of 5G technology could be endless, turning the most mundane of devices smart and translating everyday occurrences into quantifiable data.
For example, with 5G, traffic management systems could become much smarter, with traffic signals changing based on real-time traffic patterns monitored by a variety of cameras and sensors.
Virtual and augmented reality, technologies long talked about for their potential but which have been held back by the capacity and latency [the delay before a transfer of data begins following an instruction] of existing wireless networks, may finally have a shot at going mainstream under 5G.
It some ways, 5G can be likened to how the advent of electricity enabled industrial productivity on scales never before seen. Except that in the coming revolution, the power behind production will be data, not watts.
Meanwhile, the US and China are also seeking to harness 5G technology to enhance their military prowess.
In November last year, China established the 5G Technology Military-Civil Fusion Applications Industry Alliance, including members such as ZTE, China Unicom and the China Aerospace Science and Industry Corporation, which aims to develop both defence and commercial 5G applications in the country.
According to estimates, Huawei has a 28 per cent share of the world's telecoms market, and data from German firm IPlytics shows that Huawei is the company with the most 5G standard essential patents, at 1,529, followed by Finland's Nokia at 1,397.
Huawei for its part has repeatedly and vehemently denied that it would acquiesce in any attempt to compromise the security of its network gear to aid spying efforts by China.
RATING: #RobertReview (5G, Tech): 9 | 10
HASHTAGS:
#5G
#Huawei
#InternetOfThings
Source: SCMP
Published: 23th April 2019.
From 1G to 5G and Changing The World