Watch #RobertsTravels Batu Caves Tour video.
YouTube video: https://tinyurl.com/y5dyehq5
Facebook video: https://tinyurl.com/yxrtbdzf
Admission: free
What is Batu Caves Temple Dress Code?
Dress code slightly stricter for women.
As it's hot, men mostly wear shorts.
 
Sarong/ Scarf loan deposit: RM5
Refund on return: RM2
Best time to go to Batu Caves?
Obviously morning is the best and late afternoon – as it is less hot. Or wear a hat/ cap to shade the direct sun.
How difficult it is to climb the 272 steps?
Take your time to absorb the environment, people, monkeys, insects, and temple design and statutes. It's manageable for most people even for elderly people and children –
unless they have a weak heart condition.
I find it to be an energetic climb. As you will likely be stopping quite often on the way up to take photos, watch the many monkeys of Batu Caves, or enjoying the panoramic view.
Written by: Whisperer Robert Chaen
(Photo credits and video editing: Whisperer Robert Chaen)
#TopTouristAttractionsInKualaLumpur
Published: 25th March 2019.
Updated: 8th February 2020.

____________________________________________________________________________________
____________________________________________________________________________________
Batu Caves Tour & Dress Code: Kuala Lumpur's Top Tourist Attraction
Batu Caves (Tamil: பத்து மலை) is a limestone hill that has a series of caves and cave temples in Gombak, Selangor, Malaysia. It takes its name from the Sungai Batu (Stone River), which flows past the hill. It is the tenth (பத்து – Pathu in Tamil) limestone hill from Ampang. Batu Caves is also the name of a nearby village.
The cave is one of the most popular Tamil shrines outside India, and is dedicated to Lord Murugan (Tamil God Murugan Tamil: தமிழ்க் கடவுள் முருகன்). It is the focal point of Hindu festival of Thaipusam in Malaysia.
A 42.7-metre (140 ft) high statue of Lord Murugan was unveiled in January 2006, having taken 3 years to construct. It is the tallest Lord Murugan statue in the world.
Batu Caves in short also referred as 10th Caves or Hill for Lord Muruga as there are six important holy shrines in India and four more in Malaysia.
The three others in Malaysia are Kallumalai Temple in Ipoh, Tanneermalai Temple in Penang and Sannasimalai Temple in Malacca.
The limestone forming Batu Caves is said to be around 400 million years old. Some of the cave entrances were used as shelters by the indigenous Temuan people (a tribe of Orang Asli).
As early as 1860, Chinese settlers began excavating guano for fertilising their vegetable patches. However, they became famous only after the limestone hills were recorded by colonial authorities including Daly and Syers as well as American Naturalist, William Hornaday in 1878.
Batu Caves was promoted as a place of worship by K. Thamboosamy Pillai, an Indian trader. He was inspired by the vel-shaped entrance of the main cave and was inspired to dedicate a temple to Lord Murugan within the caves. In 1890, Pillai, who also founded the Sri Mahamariamman Temple, Kuala Lumpur, installed the murti (consecrated statue) of Sri Murugan Swami in what is today known as the Temple Cave. Since 1892, the Thaipusam festival in the Tamil month of Thai (which falls in late January/early February) has been celebrated there.
Wooden steps up to the Temple Cave were built in 1920 and have since been replaced by 272 concrete steps. Of the various cave temples that comprise the site, the largest and best known is the Temple Cave, so named because it houses several Hindu shrines beneath its high vaulted ceiling.

____________________________________________________________________________________
Self-Mortification During THAIPUSAM FESTIVAL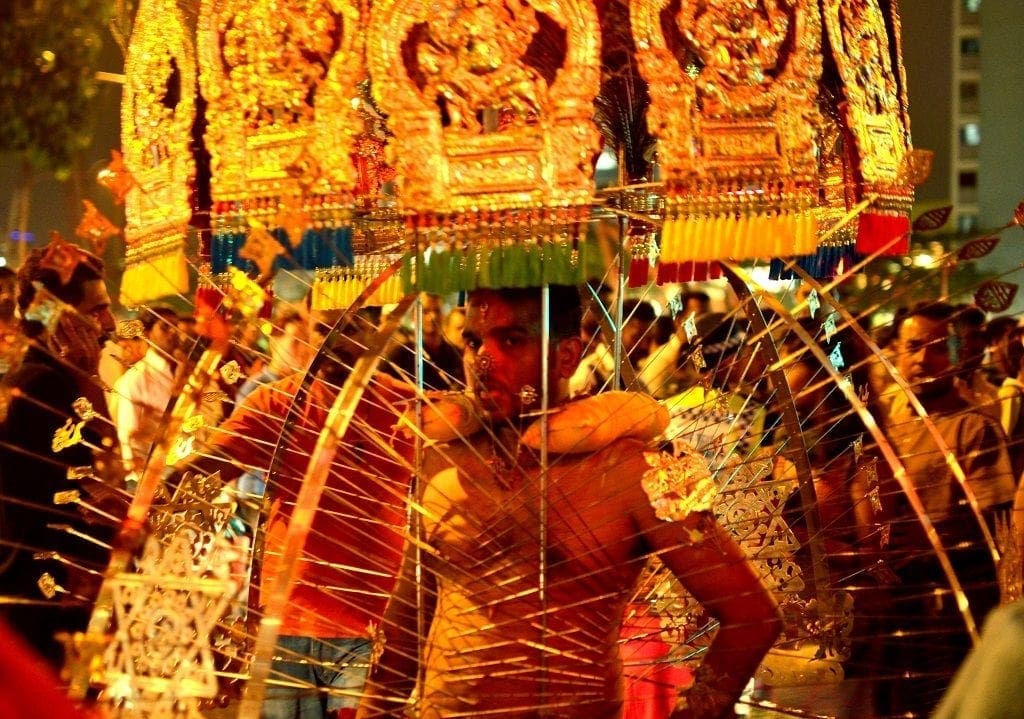 Thaipusam Festival: The Story of Murugan and Self-Mortification
____________________________________________________________________________________
Watch #RobertsTravels Batu Caves Tour video.
YouTube video: https://tinyurl.com/y5dyehq5
Facebook video: https://tinyurl.com/yxrtbdzf
Hashtags:
#RobertsTravels
#BatuCaves
#TopTouristAttractionsInKualaLumpur