Robin Williams was suffering from a debilitating brain disorder and was rapidly deteriorating when he killed himself in 2014, his widow said.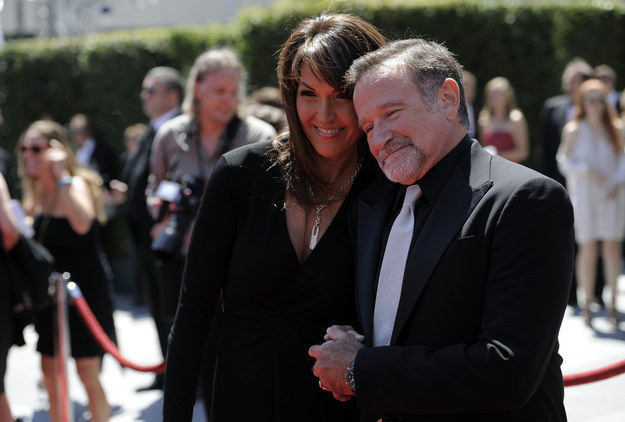 The widow of Robin Williams has opened up for the first time since her husband killed himself in 2014, telling ABC's Good Morning America that the actor was suffering from a neurodegenerative disease and had just three years to live when he killed himself.
"Lewy body dementia killed Robin," Susan Schneider Williams said. "It's what took his life."
Robin Williams' autopsy last year revealed that he had Lewy body dementia, which is often hard to diagnose and causes a progressive decline in mental abilities.
"We were living a nightmare," Susan Williams said.
In his last month of his life, her husband was experiencing dementia, paranoia, hallucinations, and depression. He had not been diagnosed with Lewy body dementia, but he was aware of the fact that he was rapidly "disintegrating."
Doctors had been planning to check the actor into a facility for neurocognitive testing, having given him less than three years to live.
"They would've been hard years. And it's a good chance he would've been locked up," Susan Williams said.
While Robin Williams had suffered from drug and alcohol addiction, he had been sober for eight years at the time of his death, she added.
The comedian started having health problems as far back as November 2013, and the following year was diagnosed with early-stage Parkinson's disease.
Susan Williams described one incident in which she found her husband bleeding from his head, but he was hardly able to recall what happened, gesturing at the door.
"My best friend was sinking," she said. "His only response was 'I miscalculated.'"
Susan Williams said her husband tried to keep himself together, but one minute he would be lucid and then five minutes later he would say something out of touch.
"The last month he could not," she said. "It was like the dam broke."
When asked if suicide was a way for Robin to take back control, she replied: "In my opinion, oh yeah. I think he was just saying no."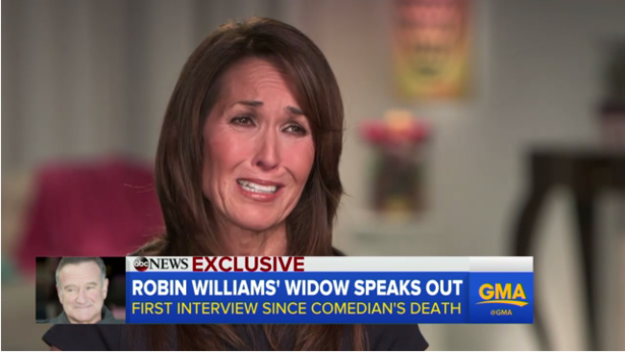 Susan Williams also talked about the couple's last conversation on the night of Aug. 10, 2014, before he killed himself.
"He said, 'Goodnight, my love.' And I said, 'Goodnight, my love,'" she said. "And then he said, 'Goodnight.' That was the last."
She went to work the next morning without seeing him, but she later asked his assistant to wake him.
When the assistant called to tell her the news, she screamed Robin's name the whole drive home, Susan Williams said through tears.
When asked if she got to see him, she said: "Yes, I got to tell him, 'I forgive you with all my heart. You're the bravest man I've ever known.'"
posted on Nov. 4, 2015, at 9:00 a.m.
Michelle Border Van Dyke
BuzzFeed News Reporter
Subscribe to the source and read comments >
https://goo.gl/879RF5
__________________________________________________
#LewyBodyDementia
#RobinWilliams3YearsToLive